Herb Alpert and Lani Hall to Perform Sold-out Concert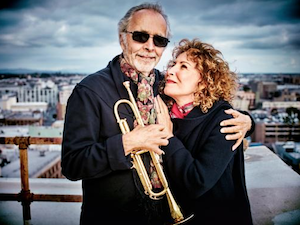 Grammy-winning trumpeter Herb Alpert and vocalist Lani Hall will perform a sold-out show at Smothers Theatre in Malibu on Sunday, October 22, at 2 PM. The musicians will donate their proceeds from the concert to the Malibu Urgent Care facility.
Infusing an eclectic mix of jazz, world, and American pop standards with their uniquely effervescent and joyful sounds, Alpert and Hall have been lighting up stage for decades.
A legendary trumpet player, Alpert's extraordinary musicianship has earned him five #1 hits, nine Grammy Awards (the latest from his 2014 album, Steppin' Out), 15 Gold albums, 14 Platinum albums, and over 72 million records sold. Herb Alpert & The Tijuana Brass propelled his sound into the pop music limelight, at one point outselling the Beatles two to one. In 1966 they achieved the since-unmatched feat of simultaneously having four albums in the Top 10—and five in the Top 20. Alpert also has the distinction of being the only artist who has had a #1 instrumental and vocal single.
As an industry leader, Alpert's commitment to artists with personal vision guided A&M Records (with partner Jerry Moss) from a Hollywood garage operation into one of the most successful independent record labels in music history that started in 1962 with Herb Alpert & the Tijuana Brass. Stars including Janet Jackson, Quincy Jones, Sergio Mendes & Brasil '66, Stan Getz, Cat Stevens, Supertramp, the Carpenters, Carole King, Sheryl Crow, Peter Frampton, the Police, and scores of others that are evidence of the consistent quality and diversity of the A&M Records family.
In 2006 Alpert and Moss were inducted into the Rock and Roll Hall of Fame in recognition of their accomplishments and are a part of the Grammy Museum's "Icons of the Music Industry" series. In 2013 Alpert was awarded The National Medal of Arts Award by President Barack Obama for his musical, philanthropic, and artistic contributions.
A Grammy Award-winning vocalist and producer, Hall started her singing career in 1966 as the lead singer of Mendes' breakthrough group, Brasil '66. She left behind her city roots in Chicago and, for five years, performed throughout the world. While Hall's singing career took her on the road, she also focused on her writing—committing to the page her personal impressions of the world around her. Mendes further expanded her writing career by asking Hall to write the English lyrics for many of the band's Brazilian songs.
In 1966 A&M Records signed Brasil '66 and Hall met her future husband, music legend Alpert. Hall has the distinction of recording more than 22 albums in three different languages (English, Portuguese, and Spanish), and in 1983 she sang the title song for the James Bond film, Never Say Never Again. In 1986 Hall won with her first Grammy Award for Best Latin Pop Performance for her album, Es Facil Amar.
Hall picked up her second Grammy Award as producer on Alpert's 2013 Grammy winning album, Steppin' Out. Since 2006 Hall and Alpert have been touring with their band to sold-out performances.
For additional information about the performance, visit the Center for the Arts website.