Flora L. Thornton Opera Program to Stage Gilbert and Sullivan's H.M.S. Pinafore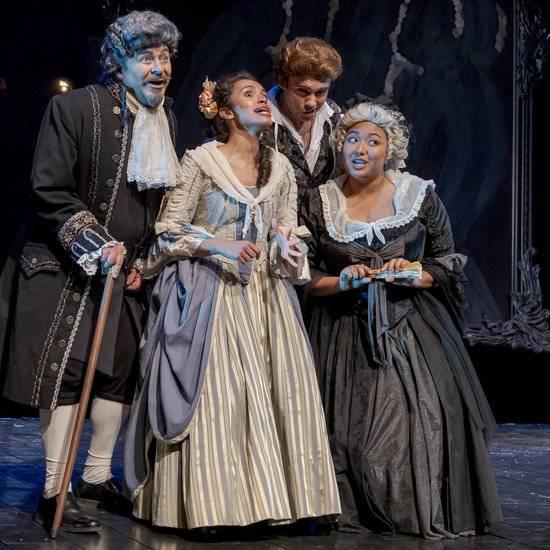 Students of the Flora L. Thornton Opera Program at Seaver College will perform Gilbert and Sullivan's comic opera, H.M.S. Pinafore, directed by Keith Colclough ('08), associate professor of vocal studies and director of opera for the Seaver College Fine Arts Division. Musical accompaniment will be provided by the Pepperdine University Orchestra, conducted by Long-Tao "Pierre" Tang, assistant professor of music and director of instrumental ensembles for the Fine Arts Division. Performances will take place at Smothers Theatre at 7:30 PM on Thursday, February 23, and on Saturday, February 25.
"This production has been an excellent opportunity for both music majors and musical theatre majors to work together and learn from one another," says Colclough. "H.M.S. Pinafore is at the intersection of opera and musical theatre, so it appeals to a broad audience."
The comedic operas of W. S. Gilbert (playwright) and Arthur Sullivan (composer) were some of the most popular London theatrical productions of the late 19th century. H.M.S. Pinafore was their first major international success and features the well-known song "I'm Called Little Buttercup." The story involves Captain Corcoran, commander of the Pinafore, who plans for his daughter, Josephine, to marry Sir Joseph Porter, the First Lord of the Admiralty. But Josephine is in love with Ralph Rackstraw, a lowly sailor. Will love triumph over convention?
"I adore how Gilbert and Sullivan point out the generally arbitrary nature of societal rank through satire," Colclough notes. "While outwardly frivolous, the action of the play is actually quite progressive—particularly for 1887—in its exploration of rank and status. The tunes are also extremely catchy!"
For more information and to purchase tickets to H.M.S. Pinafore, visit the Center for the Arts website.