The Honorable Daniel Weinstein Joins Straus Institute for Dispute Resolution as Distinguished Mediator in Residence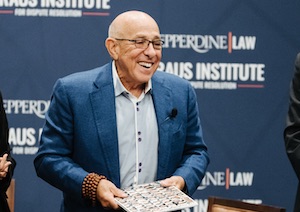 The Honorable Daniel Weinstein (Ret.) has been named distinguished mediator in residence at the Straus Institute for Dispute Resolution at the Caruso School of Law. With decades of experience and groundbreaking practice in the field of mediation, he will co-teach courses alongside Sukhsimranjit Singh, the Judge Danny Weinstein Managing Director at the institute.
In a virtual welcome celebration held on January 28, 2021, participants gathered from all over the world to congratulate both Pepperdine University and Judge Weinstein. The event was attended by the University's leadership team, longtime colleagues, and members of the Weinstein family. Also in attendance were fellows and board members from the Weinstein International Foundation, a nonprofit organization founded by Weinstein dedicated to making mediation available and accessible worldwide in the face of increasing global challenges and conflict. Sam Rugege, former chief justice of the Supreme Court of Rwanda, called Weinstein a "judicial rockstar," and thanked him for his commitment to the development of mediation in Rwanda.
In his opening remarks, Pepperdine president Jim Gash (JD '93) shared that, "This partnership brings the leader among leaders in mediation to higher education for dispute resolution."
Paul L. Caron, Duane and Kelly Roberts Dean of the Caruso School, commented on the timing of Weinstein's arrival. "One of the very best things to happen to us the last 10 months has been our deepening friendship with Judge Danny," he said. "We are so grateful for his support of our faculty and our students. We will be able to share his best-in-the-world expertise and experience."
Weinstein expressed gratitude for the opportunity to pass on his knowledge to the students at Straus. "What I hope I can bring as the distinguished mediator in residence is the practical experience of having 32 years out on the trail," he said, "and to supplement the wonderful academics that you have here who are the best teachers in the business."
Universally recognized as one of the world's top mediators, Weinstein is a founding member of the Judicial Arbitration and Mediation Service (JAMS), the largest provider of alternative dispute resolution (ADR) services worldwide. In 2008 he launched the Weinstein JAMS International Fellowship Program to provide ADR professionals outside of the United States an opportunity to learn about and advance dispute resolution practices in their countries and beyond. In January 2020 he received the second-ever Peacemaker Award from the Straus Institute in recognition of his contributions to international conflict resolution efforts.