Hyundai Partners with Three California Universities to Promote Sustainability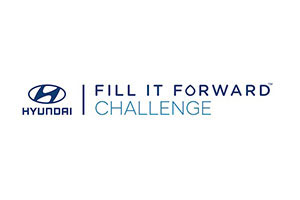 Automotive manufacturer Hyundai has launched a marketing campaign in partnership with Pepperdine University, Loyola Marymount University, and Santa Clara University in California to raise awareness about water sustainability through a three-week competition among faculty, staff, and students at the three institutions.
Part of the "Drive the Future: A Hyundai Experience," the Hyundai Fill it Forward Challenge competition, which will be in effect from November 4 through November 22, 2019, will celebrate sustainability through the practice of reusing water bottles across each of the college campuses. At the end of the contest period, Hyundai will award the university with the highest recorded number of water bottle refills with a $100,000 grant allocated to its sustainability office. The winning school will be announced on November 29. Individual prizes will also be awarded to those with the highest amount of daily and weekly tag scans, as well as to the overall tag scan leader throughout the duration of the competition.
"We are thrilled to be able to participate in this fun and friendly competition while contributing to clean water projects around the world, and even more thrilled that we have a chance to win $100,000 toward sustainability initiatives at our University," shares Camila Pupparo, director for administration and director of the Center for Sustainability at Pepperdine University, explaining that the center became involved with this partnership through a sponsorship opportunity with the University's Department of Athletics.
To encourage engagement, each of the schools distributed the same number of branded water bottles and university-specific tags to interested participants. Participants are required to download the Cupanion Fill it Forward app on their mobile devices to keep track of daily water refills; tags may be scanned a maximum of four times during a 24-hour period. Each scan results in Cupanion providing clean water to individuals in need and helps generate funding for global water-based projects. Through the program, Hyundai will also provide a glimpse into the future of electrified and fuel cell mobility, demonstrate the need for clean energy, and help equip students to lead environmental initiatives.
Pepperdine participants who would like to share their efforts with the University community are encouraged to publish related posts on their social media accounts with the campaign hashtag #FillitForwardPepp.
For additional information about the partnership, and to register for a Pepperdine University tag, contact the Center for Sustainability.