Inaugural Philanthropy Course Impacts Local Organizations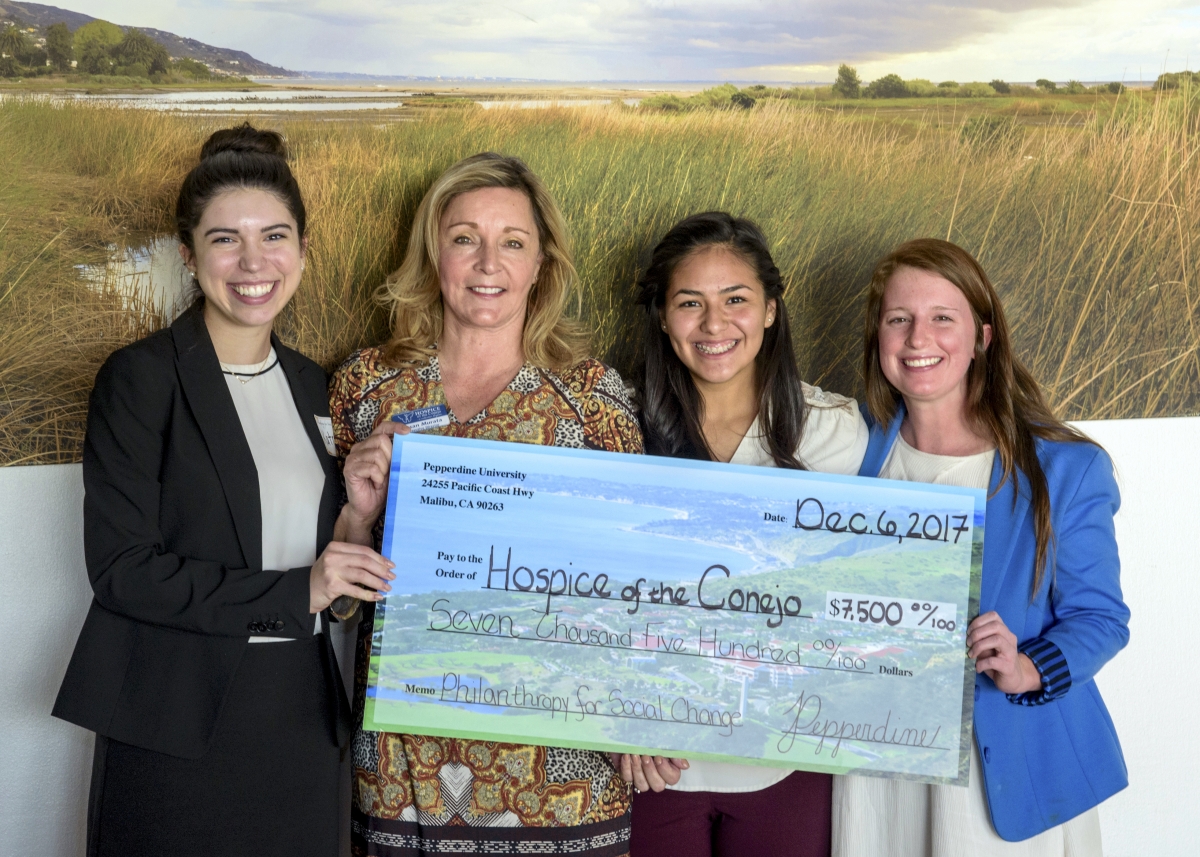 On December 6 Seaver College students enrolled in the inaugural Philanthropy for Social Change course (offered through the nonprofit management minor) hosted the first-ever Philanthropy for Social Change Funding Reception at the Fireside Room on the Malibu campus. The students granted four local organizations with substantial funds—presented as large novelty checks—to help support and raise awareness for their notable causes.
Led by Peter Thompson, who is also the director of the Pepperdine Volunteer Center, the brand-new course focuses on the philosophy behind philanthropy and requires in-depth research of numerous organizations and individual philanthropists that have made positive and impactful contributions to the communities they serve.
"As we were learning what philanthropy is, we were also putting concepts into action. We were researching, talking with each other, and learning how to communicate with the organizations. So the way we approached it was perfect for me," shared Seaver sophomore Alexis Johnson at the reception. "We partnered with each other and with the organizations. The process was amazing, and I learned a lot about myself and what I value, and it was to hear everyone else's opinions and see what they value."
Throughout the semester, students met once a week for three hours in groups of four, each group focusing on one particular area of need: children, youth, and education; health and wellness; human services and civil rights; and hunger and homelessness. As the weeks passed, the groups examined and considered the vision and mission of 15 to 20 local organizations, strategically narrowing down their lists to three organizations, and eventually selecting one.
As Thompson explained to an audience of Pepperdine students, administration, faculty, and staff, "It was my job to point them in the right direction and not get in their way, and I really appreciate all the work the students have put in."
Speakers from each of the four groups took turns at the podium, introducing their chosen organizations and providing a brief overview of their inspiring charitable efforts and noble goals.
Presenting the first novelty check for $8,000, senior Lizzi Lowe discussed the social impact of Food Forward—an organization that takes undesirable-looking but still perfectly good fruits and vegetables from backyards, farmer's markets, and public orchards, and donates them to individuals in need.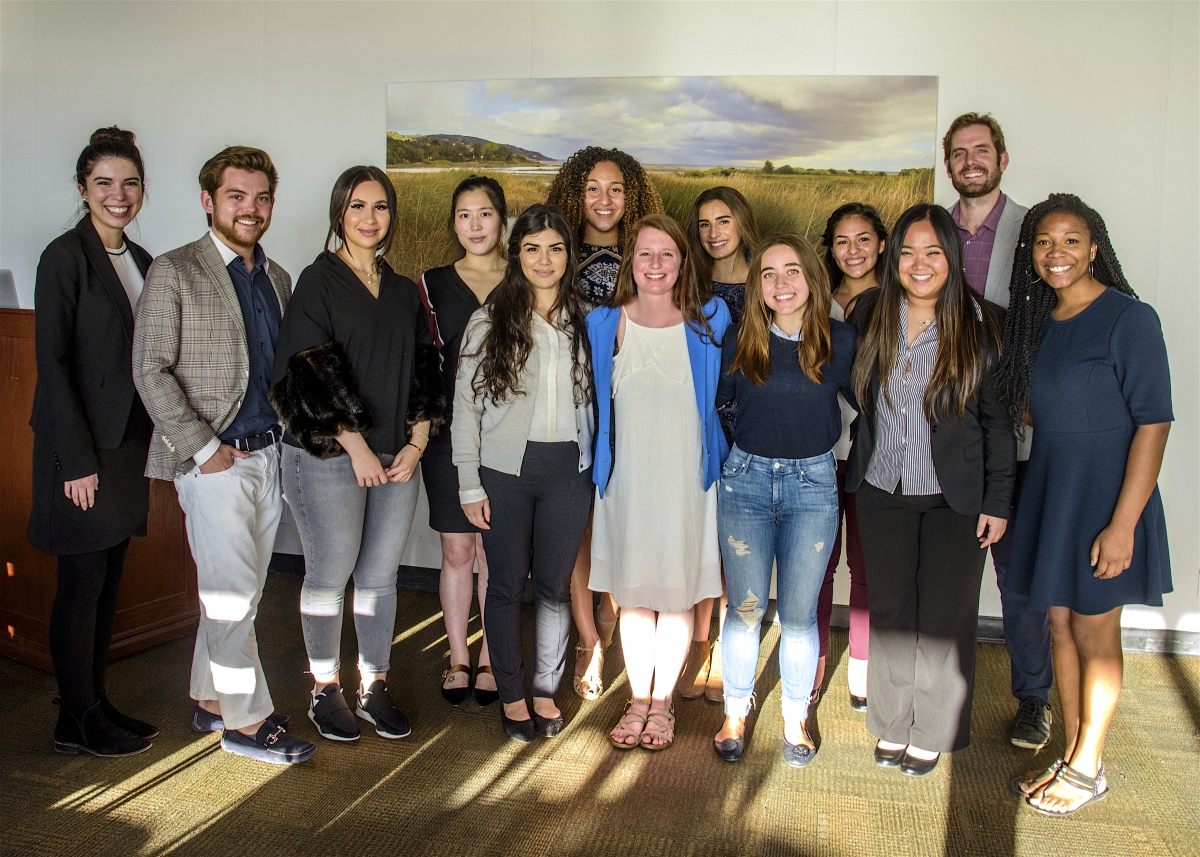 In an emotional speech, junior Michelle Maemone presented $8,500 to three representatives from Reid's Gift, a nonprofit committed to helping teenagers and adults with disabilities by uniquely combining practices from medicine, occupational and recreation therapy, psychology, rehabilitation counseling, social work, speech and language pathology, and special education.
Senior Katrina Winnett proudly presented Hospice of the Conejo with a $7,500 gift after reading the organization's mission statement on their website, which emphasizes the organization's dedication to "providing compassionate, emotional, practical support and information to individuals and families facing end-of-life issues always completely free of charge."
The fourth and final check for $6,000 was presented by junior Hannah Robert to Golden Heart Ranch, as she explained that "as a psychology major, it was nice to take a break from science, and get to see and connect with the real world."
"The outcomes of this course became personal for the students. It went beyond getting a grade, and the connections in the community and with the amazing people at the organizations they researched became paramount," Thompson said. "The effort they put into the course was evident as they awarded real money to organizations and people making a real difference. The deeper the connection with someone at the organization, the more likely it was for that organization to receive money."
Funding for the Philanthropy for Social Change was made possible by a generous donation from Dale ('64) and Rita Brown, whose invaluable gift was facilitated through a partnership between Pepperdine University and the Philanthropy Lab. As suggested by the company's name, the Philanthropy Lab promotes charitable efforts by connecting students in philanthropy-based classes from several reputable universities around the nation with community members who are interested in giving. Gifts can be made to any partner university and class, which the students can donate to an organization of their choice.
To learn more about the Philanthropy for Social Change course, visit the Pepperdine University page on the Philanthropy Lab website.