Institute for Entertainment, Media, and Culture to Host Diversity Works Symposium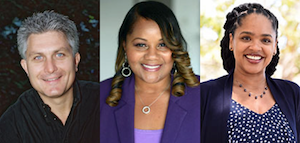 The Pepperdine University Institute for Entertainment, Media, and Culture will host the Diversity Work$ symposium at Fairmont Miramar Hotel & Bungalows in Santa Monica on Friday, November 4, from 2:30 to 5:30 PM.
As diverse perspectives sweep through the entertainment business, new stories and voices begin to transform the media landscape, impacting a wide variety of current and popular topics, such as the Black Lives Matter activist movement, the ways in which women tackle gender bias issues, social and political intergenerational gaps, as well as disability awareness campaigns.
The symposium will explore how diversity works on the occasion of the American Film Market—the entertainment industry's largest international conference, attended each year by over 8,000 industry professionals.
Quincy Newell (MBA '09) of Lionsgate, Britta Wilson (MBA '92) of Pixar, and Christina Lee Storm of DreamWorks Animation will lead discussions about the evolution of the entertainment business in light of greater diversity and inclusion.
Charles Howard, cochair of the Producers Guild of America Diversity Committee, and Scott Bowling (MA '90), president of the Exceptional Children's Foundation, will highlight how they have taken inclusion to a new level with Media Access.
Additionally, a criminal behavioral analyst Laura Richards will present her reexamination of The Case Of: JonBenét Ramsey in a four-hour limited event docuseries on CBS.
Diversity Work$ will be hosted by the institute's creative director Craig Detweiler, and moderated by academic codirector Joi Carr and assistant professor of communication Roslyn Satchel.
The Institute for Entertainment, Media, and Culture facilitates the education and development of a new generation of multidisciplinary graduates uniquely positioned for impactful leadership roles within the media and entertainment sectors. The institute creates pathways for students from Seaver College, Graziadio School of Business and Management, and School of Law to become creative and business-savvy executives, entrepreneurs, and attorneys in the entertainment industry.
For additional information about the symposium, and to register to attend, visit the Institute for Entertainment, Media, and Culture page on the Pepperdine University website.