Intercultural Communication Student Cecilia Arteaga Wins Prestigious Hispanic Public Relations Association Scholarships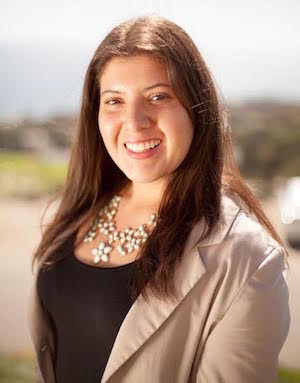 Seaver College senior Cecilia Arteaga was recently recognized by the Hispanic Public Relations Association, Los Angeles chapter (HPRA-LA), as the winner of the HPRA-LA Scholarship and Esther Renteria Community Service Scholarship at the 32nd Annual PRemio Awards & Scholarship Gala.
Per the HPRA-LA website, "The HPRA Scholarship Program was created to assist students of Hispanic descent in California achieve their educational goals. The HPRA Scholarship Program recognizes outstanding undergraduate academic achievement and community service among students who are pursuing a career in public relations and related communications fields."
A former recipient of the Marcia Silverman Minority Student Scholarship Award from the Public Relations Society of America (PRSA) Foundation, Arteaga is currently pursuing an intercultural communication degree alongside an ethnic studies minor and has served as chapter president of the Public Relations Student Society of America (PRSSA) at Pepperdine, which received the Star Chapter Award during her presidency. On the event of her recent recognition by the HPRA-LA, Arteaga shares how she hopes to impact the communications industry:
Pepperdine : How did it feel to be recognized by the HPRA-LA?
Arteaga: I first heard about HPRA-LA from a former coworker at my first internship, and she suggested I that apply for the scholarship because she was also a recipient.
When I attended the 32nd Annual PRemio Awards & Scholarship Gala, I met with other inspiring public relations professionals who share my ethnic background. It was a night to celebrate some of the victories of the Hispanic community within the communications industry as well as a reminder of our responsibility to speak up for others whose voices are unheard or misrepresented, and open the path for others to join in the conversation, too.
P: What inspired you to pursue communications, and what impact has it had on you?
A: I love that the study of communication joins research from sociology and psychology while adding the element of human connection. Though it may sound like simple math, the science of creating and receiving messages becomes an art, especially within the communications industry. The possibilities to have a positive impact on people and communities are what inspired me to join the industry, allowed me to be creative in my approach to anything and everything. From face-to-face conversations about important issues, to developing and executing campaigns, I encounter every challenge with response-ability.
P: How has Pepperdine influenced your passion for public relations?
A: Last spring I led a field trip to Pepperdine for about 20 high school students, most of whom were of Hispanic descent. I provided them a tour of the school while giving them a real perspective of what it's like to be a college student. Thanks to one of my advisors, Denise Ferguson, we ended the tour with background access to our communications department—including the school's newsrooms—and I shared the presentation for the PRSSA high school outreach . I included this in my application for the Esther Renteria Community Service Scholarship, won based on my contributions to the community, and involvements through education, internships, and grassroots initiatives.
I realized that purpose, service, and leadership are embedded in me as a Pepperdine student, especially while serving and giving back to the Hispanic community.
P: What do you hope to contribute to the communications industry?
A: Throughout my academic research and professional career, I will continue to question and challenge what "normal" is—especially in the context of what a "normal" college student or working professional looks like and does. Among other organizations and entities, I thank Pepperdine, PRSSA, and HPRA-LA for recognizing that my experience as a student of color is also valid.
I also hope to be part of bold movements within the communications industry and other disciplines that seek to bring positive social change. With an academic background in intercultural communication and ethnic studies, I would like to bring a unique perspective to message creation and relationship building, which are both essential in public relations. As a college student and soon as a working professional, I hope to always stay curious and learn.
P: How will your career benefit the Hispanic community?
A: I want to work in spaces where marketing meets advocacy, and where creativity rises from adversity—especially places working to empower the Hispanic community along with other historically disadvantaged and underrepresented groups. This will include mutually beneficial relationships between organizations and their publics by actively listening to diverse audiences through research and grassroots outreach in order to learn how to best relate—that's what public relations means to me.
P: What would be your ultimate dream job after graduation?
A: My dream job after college is to be a "people walker." Since that's not a real profession yet, I'd love to one day be a public relations director for a nonprofit focused on civil rights, education, or health.