International Cellist Sang-Eun Lee to Perform in Malibu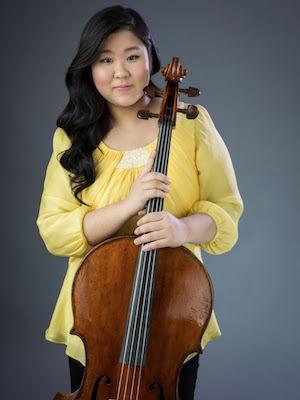 Cellist Sang-Eun Lee will visit Pepperdine University's Raitt Recital Hall in Malibu on Sunday, April 8, at 2 PM, as the final artist of the 2017-2018 Recital Series. Pianist Carlos Avila will accompany Lee on stage.
The evening's program will include Frédéric Chopin's Sonata in G Minor, Op. 65 and César Franck's Sonata in A Major.
Hailed for her expressive artistry and dazzling technique, Lee has won top prizes in various international competitions; she won the 2014 Young Concert Artists (YCA) International Auditions, and First Prize at the 2014 YCA Auditions in Seoul, Korea. At age 15, she won First Prize at the 2009 Johansen International Competition in Washington, DC, Second Prize at the 2009 International Tchaikovsky Competition for Young Musicians, and the Young Musician Prize of the Emanuel Feuermann Competition in Berlin, Germany. She was also awarded Germany's Kronberg Academy Cello Festival's 2009 Ingrid zu Solms Culture Prize.
Her 2017-18 season includes recitals at the National Museum of Women in the Arts' Shenson Chamber Music Series, Abbey Church Events, The Aaron Copland School of Music at Queens College, and as soloist with Sinfonia Gulf Coast, the Brevard Philharmonic, Fort Smith Symphony, and the Long Bay Symphony.
Past seasons have included performances at the Morgan Library and Museum, Boston's Isabella Stewart Gardner Museum, the Evergreen Museum and Library, as well as her debut as soloist with the Orchestra of St. Luke's at Alice Tully Hall, her acclaimed Kennedy Center debut, co-presented with Washington Performing Arts and supported by the Korean Concert Society Prize, and her New York recital debut, sponsored by the Michaels Award, on the Young Concert Artists Series. She has also performed at Colgate University, Buffalo Chamber Music Society, the Paramount Theatre, the Jewish Community Alliance in Florida, the Lied Center of Kansas, and the Music@Menlo Festival.
Lee has been invited to perform as a soloist with Korea's leading orchestras including the Seoul Philharmonic under Myung-Whun Chung, the Suwon Philharmonic, the Prime Philharmonic, the Korean National University of Arts Orchestra, the Gangnam Symphony, and GMMFS orchestras. She made her Seoul recital debut at the age of 13 on the Kumho Prodigy Concert Series and has given recitals at the Blue House in Seoul and the Musée du Louvre in Paris, France. Lee has been featured on the Korean Broadcasting System.
Born in Seoul, Korea, Lee attended the Korean National University of Arts, from the age of nine, where she worked with Myung Wha Chung and Sang Min Park. She is a grant recipient of the Bagby Foundation for the Musical Arts, and currently attends the Curtis Institute of Music, working with Peter Wiley and Carter Brey.
Tickets range between $10 and $28. For additional information about this performance, and to purchase tickets, visit the Center for the Arts website.