International Pianist Daniel Hsu to Perform at Raitt Recital Hall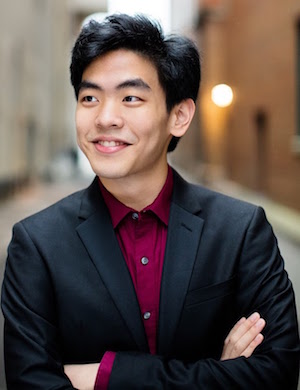 The Pepperdine University Lisa Smith Wengler Center for the Arts will present a sold-out performance by the first prize winner of the 2015 CAG Victor Elmaleh Competition, pianist Daniel Hsu, in Raitt Recital Hall on the Malibu campus on Sunday, November 20, at 2 PM.
The program will include Johann Bach's Chacoone from the Partita No. 2 in D Minor for Unaccompanied Violin, BWV 1004; Franz Schubert's Four Impromptus, D. 899; and Johannes Brahms' Variations and Fugue in B-flat Major on a Theme by Handel, Op. 24.
A 2016 Gilmore Young Artist, 18-year-old Hsu is a fast-rising pianist who has earned top prizes in numerous competitions, most recently the Bronze medal at the 9th Hamamatsu International Piano Competition in Japan, and first prize at the San Jose International Piano Competition, Pacific Musical Society Piano Competition, and San Francisco Chopin Competition. He is also a 2015 recipient of the Williamson Foundation for Music grant.
Earlier this year, Hsu performed at the Gilmore International Keyboard Festival, Festival Napa Valley, Trust Performing Arts Center, Keneseth Israel, and the Curtis Institute of Music. His New York recital debut at Carnegie Hall's Weill Recital Hall is slotted for spring 2017.
Other recent recital highlights include performances in Japan at the Tokyo Bunka Kaikan and ACT City Hamamatsu's Concert and Main Halls. WHYY's On Stage at Curtis public radio and television program will also feature some of Hsu's recent performances at Curtis, including a highly acclaimed performance of the last three Beethoven piano sonatas with siblings Ashley and Andrew.
Hsu's featured concerto performances include the Lansing Symphony Orchestra at the Wharton Center (also as part of the 2016 Gilmore Festival), and in 2016-17 with the Grand Rapids Symphony and the New Haven Symphony. He was also recently a featured soloist with the Tokyo Symphony Orchestra, and in the U.S. he has appeared with the El Camino Youth Symphony, Fremont Symphony Orchestra, and Golden Gate Philharmonic.
Hsu began his studies at the age of six with Larisa Kagan, and has also studied with Hans Boepple, Erna Gulabyan and Olya Katsman before being accepted into Curtis at age 10. A native of the San Francisco Bay Area, Daniel Hsu is the Richard A. Doran Fellow at the Curtis Institute of Music, studying with Gary Graffman and Eleanor Sokoloff for the past eight years.
In addition to his musical endeavors, Hsu enjoys computers and programming. One of his many projects include contributing to Workflow, a recipient of the 2015 Apple Design Award, which has been praised for its design, technical innovation, creativity, and for improving the experience of using mobile devices for visually impaired users.
Tickets for this performance are currently sold out. To be added to a waitlist, contact the Center for the Arts at (310) 506-4522.