International Speaker and Author Ravi Zacharias to Present at 2016 Veritas Forum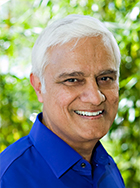 Ravi Zacharias, founder and president of Ravi Zacharias International Ministries (RZIM), is the special guest speaker at the 2016 Veritas Forum hosted by Pepperdine University's Office of the Chaplain and held at the Firestone Fieldhouse on Tuesday, February 16, at 7 PM. Zacharias will examine this year's theme of "What Gives Humans Value?" as it relates to spirituality and Christian values. While attendance for this event is free, general admission tickets are required.
Zacharias holds a master of divinity degree from Trinity International University in Deerfield, Illinois, and has since received six doctoral degrees, notably a doctor of laws and a doctor of sacred theology. He has been an international speaker for four decades, including at engagements in world-famous universities, for government and military sectors, and given addresses at the White House, the Pentagon, and the CIA in Washington, D.C.
The former chair of Evangelism and Contemporary Thought at Alliance Theological Seminary, Zacharias has appeared on major television networks such as CNN and Fox, and hosts radio programs with international broadcasts. He is also an accomplished author and editor, with many of his books available in Spanish, Russian, Chinese, and Korean, among other languages.
The goal of Pepperdine University's annual Veritas Forum is to encourage and promote a deeper understanding of faith through a collective exploration of basic truths about God and humanity.
To learn more about the Ravi Zacharias, and to register for general admission tickets, visit Pepperdine University's page on the Eventbrite website.
For those unable to attend this event, it will be broadcast live via Livestream.