Internet Stars Coming to Smothers in Sold Out Show
The Internet sensation 2CELLOS takes the Smothers stage in a sold out show at Pepperdine University, Malibu campus, on Wednesday, March 11 at 8 p.m. Tickets are sold out for this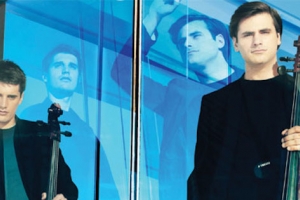 performance, but those interested may call the box office at 310-506-4522 to be put on the waiting list.
Comprised of the two young Croatian cellists Luka Sulic and Stjepan Hauser, 2CELLOS rose to fame in 2011 when their version of Michael Jackson's "Smooth Criminal" took the world by storm. The YouTube video became a massive viral sensation leading to a record deal with Sony Masterworks and an invitation to join Sir Elton John on his worldwide tour.
Despite their huge online following where they continue to amaze with new YouTube hits, 2CELLOS' main focus and dedication has always been playing live. Apart from many sold out solo tours (US, Japan, Australia, Europe) the duo has also appeared on major TV shows such as The Tonight Show with Jay Leno, The Ellen DeGeneres Show (multiple times) and many others.
2CELLOS was the first instrumental act to ever perform on the hugely popular TV series GLEE, where they appeared as special guests in the Michael Jackson tribute episode, performing "Smooth Criminal." The 2CELLOS' arrangement of the song, which featured Naya Rivera, debuted at number 10 on the Billboard Hot 100 Digital Songs Chart and landed the 2CELLOS' debut album in the Top 100.
Together with the Chinese classical superstar pianist Lang Lang, they appeared at the CCTV New Year's Gala for more than one billion viewers. Performing with Sir Elton John on his tour, they have traveled around the globe several times playing with him, opening the shows in massive stadiums, and appearing at prestigious venues and events, such as Madison Square Garden, Paris Olympia, Queen's Diamond Jubilee, and the Emmys in Los Angeles.
Sulic and Hauser have played the cello since childhood; Sulic graduated from the acclaimed Royal Academy of Music in London, and Hauser from the Royal Northern College of Music in Manchester, both in 2011. Sulic has won a series of top prizes at numerous prestigious international music competitions including first and special prize at the VII Lutoslawski International Cello Competition in Warsaw (2009), first prize at the European Broadcasting Union "New Talent" Competition (2006), and first prize at the Royal Academy of Music Patron's Award in Wigmore Hall (2011) among others. Hauser has worked with acclaimed classical artists such as Mstislav Rostropovich, Bernard Greenhouse, Mennahem Pressler and Ivry Gitlis, to mention a few. He has collected no less than twenty-one first prizes at the national and international music competitions and performed twice for Prince Charles in Buckingham and at St. James's Palace. Both have individually appeared in major classical music venues throughout the world, including Wigmore Hall, Royal Albert Hall, Southbank Center, Amsterdam Concertgebouw, Vienna's Musikverein, and Konzerthaus.
2CELLOS released their second album IN2ITION in January 2013. The album was produced by the legendary Bob Ezrin (Pink Floyd, Alice Cooper, Kiss, Deep Purple) and features an eclectic group of vocal and instrumental guests including Elton John, Steve Vai, Lang Lang, Naya Rivera and Zucherro.
Their new album CELLOVERSE was released January 27, 2015.
For more information, please visit the Center for the Arts website.