Italian Comedy to Bring Laughs to Pepperdine Stage
The Pepperdine University Fine Arts Division Theatre Department will present the classic comedy The Servant of Two Masters at 7:30 p.m. on Wednesday,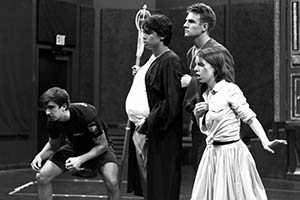 April 8 through Saturday, April 11 at Smothers Theatre, Malibu.
The Servant of Two Masters has delighted audiences for more than 250 years. First published in 1753, Goldoni's tangled tale of scheming lovers, scheming servants, and scheming fathers-in-law, wrote the book—literally—for modern situation comedies. It reminds us that learning to laugh at ourselves is the quickest route to a long and happy life. Filled with gags and groans aplenty, it is sure to delight audiences of all ages.
Brian Lohmann, Associate Artistic Director of LA-based Impro Theatre, directs the 13-member Pepperdine student cast and the live student musicians.
"Commedia, with its tricksters and slicksters has given the theater enduring models of invention and insurrection," says Lohmann. "These poor, but imaginative, vassals champion the notion that no matter our circumstances, we are capable of more than seems humanly possible."
The Servant of Two Masters is presented as part of Pepperdine's Mary Pickford-Stotsenberg Performances series. There will be a talk with the cast and director following the Wednesday performance. The Servant of Two Masters is presented by special arrangement with Nick Hern Books.
Tickets are $15 for the public, $10 for full-time Pepperdine students, and $12 for Pepperdine faculty and staff. To purchase or for more information, please call (310) 506-4522 or visit the Center for the Arts website.