James R. Wilburn to Be Named Dean Emeritus of School of Public Policy
James R. Wilburn, who has served as inaugural dean of the School of Public Policy since its founding 18 years ago, will be named Dean Emeritus on August 1, 2015. Wilburn will transition from his administrative position and plans to return to the classroom for the 2016-2017 academic school year after a sabbatical.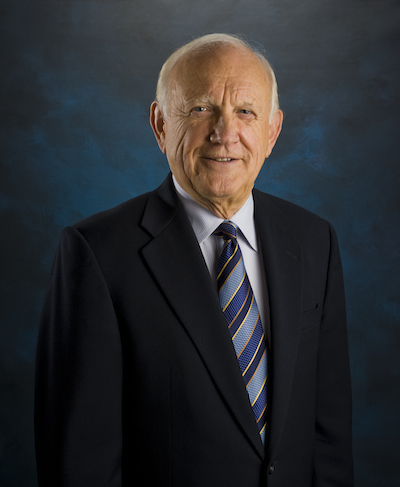 Considered a fearless leader who inspired hard work and admiration in students, faculty, and staff by former Pepperdine president David Davenport, Wilburn has served as a passionate champion of the University's mission throughout more than four decades at Pepperdine. He has skillfully filled the roles of faculty member, provost, dean of the Graziadio School of Business and Management, and vice president for university affairs. In 1997 he was named founding dean of the School of Public Policy.
"In his four decades of service, Jim Wilburn has proven his dedication and his capacity to lead over and over again," says Pepperdine University president Andrew K. Benton. "Everything we have asked him to do, and this includes service to five Pepperdine presidents in several senior roles, he has done very well. The loyalty his friends, former students, and colleagues feel for Jim is legendary. His greatest ally and confidant is Gail, his talented wife. I am personally grateful that they will continue to serve at the forefront of the important things we hope to accomplish at the School of Public Policy and more broadly within Pepperdine University. Jim and Pepperdine still have some mountains to climb together."
Wilburn is known for his headline-making work in public policy. From 1991 to 1996 he served as co-chair of the U.S. Committee to Assist Russian Reform, a program funded by the U.S. Department of State and authorized by Boris Yeltsin.
During Wilburn's years as dean of the Graziadio School, it moved more aggressively into international business and started five new academic programs, with the nation's foremost program for mid-career adults and the largest MBA enrollment west of Chicago, Illinois. In addition to his experiences in higher education, Wilburn has authored books on American history, business management, and faith and public policy.
Wilburn received his PhD in economic history from the University of California, Los Angeles, a master's degree in history from Midwestern State University, and an MBA from the Pepperdine Presidents and Key Executives program. He received bachelor's and master's degrees in Biblical studies from Abilene Christian University.
Upon Wilburn's departure, Pete Peterson, executive director of the Davenport Institute for Public Engagement and Civic Leadership at the School of Public Policy, will serve as interim dean. Pepperdine will begin a nationwide search to identify his successor.