Jay Brewster Named Provost and Chief Academic Officer of Pepperdine University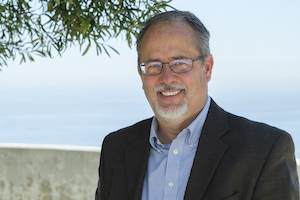 Jay Brewster, professor of biology and divisional dean of the Natural Science Division at Seaver College, has been named provost and chief academic officer of Pepperdine University. Brewster, who has served at Pepperdine for 24 years in various capacities, will begin his new role on August 1, 2021. He succeeds Rick R. Marrs, who at the conclusion of his tenure will have served as the University's provost for seven years.
"Jay Brewster is a person of impeccable character and has demonstrated his gentle yet profound wisdom in each of the leadership positions he has occupied," said Pepperdine president Jim Gash (JD '93) in an announcement to the University community. "He is also a reputable research scientist who embodies Pepperdine's commitment to transforming lives through rigorous academics, spiritual exploration, and the significance of a life of purpose."
The announcement follows a rigorous nationwide search led by search committee co-chairs April Marshall, professor of Hispanic studies at Seaver College, and Tim Perrin, senior vice president for strategic implementation.
"We are most grateful to our colleagues on the Provost Search Committee for their extraordinary investment of time and energy over the course of the last six months and to the many members of the Pepperdine community who thoughtfully participated in the search process," said Marshall and Perrin in a joint statement. "With the able assistance of our search consultants at SP&A Executive Search, we were pleased to attract a highly qualified and competitive pool of applicants."
Brewster earned his bachelor's degree in science education from Lubbock Christian University. He earned his PhD in cell biology and biochemistry at Rice University, which he followed with a postdoctoral fellowship at McLaughlin Research Institute for Biomedical Sciences.
Since joining Pepperdine in 1997 as assistant professor of biology, Brewster has been an active member of the University community. He has held several appointments on various University committees, including the Howard A. White Award for Teaching Excellence selection committee; the Pepperdine accreditation committee for high impact practices; and the Rank, Tenure, and Promotions Committee.
Brewster's dedication to students and their academic growth has been recognized at the University for many years. He is a 2006 recipient of the Howard A. White Award for Teaching Excellence. In 2010, in recognition of his nationally acclaimed scholarship, he was named the Frank R. Seaver Professor in Natural Science. Beyond guiding students in the classroom, Brewster has demonstrated a commitment to students' spiritual development as an elder of the University Church of Christ for the past four years.
In his new role, Brewster will oversee the academic development and integrity of Pepperdine University and its five schools. He will be primarily responsible for directing the University's academic programs and strategic initiatives while also recruiting exceptional faculty and encouraging critical faculty scholarship and teaching.
"I am deeply honored to be selected as the next provost of Pepperdine University. This is a special place that partners the sincere care for each student with a faculty of accomplished scholars," shared Brewster. "I have loved my time at Pepperdine and look forward to the work that is to come. I look forward to partnering with President Gash and the deans of each school in support of this premier Christian university."