Jazz and Gospel Singer Lizz Wright to Perform at Pepperdine University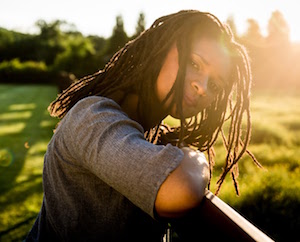 Acclaimed vocalist and one of the most revered popular singers of her generation, Lizz Wright will perform at Pepperdine University's Smothers Theatre in Malibu on Thursday, October 12, at 8 PM.
Wright is a steward of American music, bringing brilliant color and vibrancy to singular original works and compositions by some of the greatest songwriters of our time. She has garnered widespread attention through the release of five critically acclaimed albums. Since her breakout Verve debut album Salt, Wright lives life filled with beautiful possibilities centered on the power of song.
Her latest album GRACE, released from Concord Records on September 15, reveals the web of deep running roots of story and song that bind together the vastly diverse traditions that are the soul of the American South. Wright summons her Southern heritage to usher us into a nurturing space that pulses and hums with the unspoken suggestion that grace is a cornerstone of our original state of being.
"In this day it's nearly a revolutionary act to stand deep in unconditional love, to abide in fearless belonging and to embrace our inescapable tenderness," Wright says. GRACE is a proclamation to unearth our fundamental kindness and generosity.
Produced by acclaimed singer and songwriter Joe Henry, GRACE was tracked live on Sunset Blvd. in Los Angeles alongside a standout cast of musicians at United Recording Studios and features Wright's singular translations of music by Ray Charles, Allen Toussaint, Nina Simone, Sister Rosetta Tharpe, k.d. lang, Bob Dylan, Frank Perkins and Mitchell Parish, as well as emerging artists Rose Cousins and Birds of Chicago.
For her audience, Wright's songs embody a tradition that allows us to always feel at home—wherever we might be physically or emotionally. Wright culls inspiration from her Southern upbringing in Georgia where she was the musical director of a small church in which her father was the pastor. Gospel music, and the call and response singing with the church congregation, informed her first brushes with music.
At the age of 22, Wright made a name for herself nationally as a vocalist with a touring concert tribute to Billie Holiday, where her poised performance stole the show. The following year, she signed with Verve Records for the release of Salt, which topped Billboard's contemporary jazz charts. Her subsequent albums (Dreaming Wide Awake, The Orchard,Fellowship, and 2015's Freedom & Surrender) continued to top the charts and her single "Lean In" (from Freedom & Surrender) landed on President Obama's 2016 Summer Playlist. NPR critic Ann Powers included Freedom & Surrender on her list of "Favorite Albums in 2015," and the album has received rave reviews from The New York Times, Wall Street Journal, and many other publications.
Ticket prices range between $10 and $40, and are required for attendance. For additional information about the performance, and to purchase tickets, visit the Center for the Arts website.