Jonathan See Named "CIO of the Year" by Los Angeles Business Journal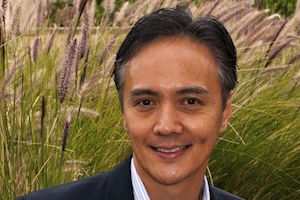 Jonathan See, chief information officer of Pepperdine University, received the 2014 CIO of the Year Award at the annual Los Angeles Business Journal CIO/CTO Awards held on June 11 at the Hyatt Regency Century Plaza in Los Angeles.
The CIO/CTO Awards honors those professionals in the top information technology positions within their organizations. The Los Angeles Business Journal explains that these important individuals and teams play vital roles in making Los Angeles businesses, institutions, and nonprofit groups successful. Together with their CEOs, their decisions impact all aspects of the business including their company's growth, profitability, functionality, and competitiveness in the marketplace.
"It is a deep honor to be recognized for my work alongside 53 fellow CIOs across various industries in the Los Angeles region," said See. "It is also a very exciting time to be a CIO, especially in higher education. To have the opportunity to introduce and integrate technology within teaching and learning at a great institution like Pepperdine and produce great value for our students is truly exciting. I can not do what I do today without a great IT team and the support and collaboration I receive from my Pepperdine colleagues."
See was appointed interim CIO of Pepperdine University in September 2011 and took on the title permanently in January 2012. In this capacity he provides leadership and support for the advancement and use of technology at the University. He brings to the information technology division a business value perspective and end-user experience focus.
See's work in higher education spans 25 years. Since joining Pepperdine in July 2005, See has served in many capacities, including senior director for IT Administration and Client Services and deputy CIO. In addition, Jonathan worked at the Getty Research Institute for three-and-a-half years as the head of administration and at the California State University, Los Angeles, campus for 14 years, where the last position he held was deputy executive director for commercial operations.