Kristen Dowling Named Head Coach of Waves Women's Basketball Team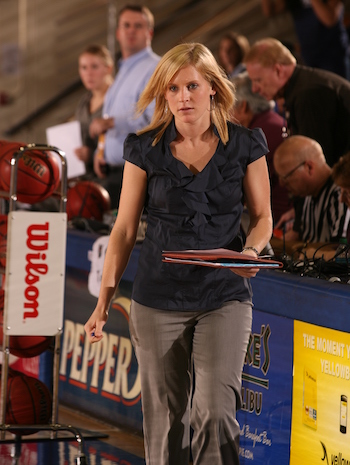 Kristen Dowling (MA '07), former Pepperdine women's basketball assistant coach who has led the Athenas at Claremont-Mudd-Scripps since 2012, will return to Malibu as the eighth head coach in program history.
"Pepperdine Athletics exists to further our institution's Christian mission, to provide an enriching, rewarding experience for our student-athletes that results in graduation, and to compete for championships," said Pepperdine director of athletics Steve Potts (JD '82). "Kristen Dowling gives us a perfect fit for those objectives. She brings a strong Christian faith, a true commitment to our student-athletes' well-being as a Phi Beta Kappa graduate of the University of Redlands, and is dedicated to building a championship-caliber women's basketball program. We are excited to have Kristen leading our women's basketball program for many years to come."
Dowling posted a 147-46 (.762) record as the head coach of the Division III Athenas, including six straight 20-win seasons and at least a share of six consecutive SCIAC regular-season championships. Her squads won the SCIAC Tournament four consecutive years between 2014 and 2017 and advanced to the NCAA Tournament each time.
"I am elated to lead the Pepperdine women's basketball program," said Dowling. "I want to thank President Benton, President-elect Gash, Steve Potts, and Karina Herold for entrusting me with the leadership of this program. Pepperdine's Christian mission and commitment to academic and athletic excellence are core to who I am, which makes this role an absolute dream come true. I am excited to get to know the current team, encourage them to compete with purpose, and build upon their success. The future of Pepperdine women's basketball is incredibly bright."
Dowling's first team at Claremont-Mudd-Scripps posted a 9-16 record in the 2012–13 season, but she turned the program around quickly and recorded a school-record 24 wins in the following season. The Athenas have hit 24 wins two more times since then and had at least 23 wins in five of the last six seasons. She led Claremont-Mudd-Scripps to its first NCAA Tournament victory in 2016, and the Athenas again won a first-round game in 2017.
Dowling was named SCIAC Coach of the Year in 2015. Over seven years, she posted a 93-19 (.830) record in conference play, with a remarkable 88-8 (.917) record the past six seasons. Her student-athletes won two SCIAC Player of the Year awards and were named to the All-SCIAC first team 10 times.
This will be Dowling's third stint at Pepperdine. She was a graduate assistant and academic advisor during the 2006–07 and 2007–08 seasons, then returned as an assistant coach for the 2010–11 and 2011–12 campaigns under former head coach Julie Rousseau (MA '12). The Waves went 32-27 during the 2011 and 2012 seasons. They placed third in the West Coast Conference in 2011 and advanced to the Women's National Invitation Tournament.
In between those two stays at Pepperdine, Dowling worked as an assistant coach at California State University, Bakersfield, for the 2008–09 and 2009–10 seasons. The Roadrunners went 35-23 those two years and made their first-ever Division I postseason appearance in the 2010 Women's Basketball Invitational.
Dowling is a 2004 Phi Beta Kappa graduate of the University of Redlands, where she earned a bachelor's degree in Spanish with a minor in physical education. As a student-athlete, she helped the Bulldogs to their second-ever SCIAC title in 2004 and a WBCA Class Act Achievement Award. Dowling also earned a master's degree from Pepperdine in educational technology in 2007.
She is a graduate of Nike's "So You Want to Be a Coach" program, as well as the NCAA Women's Coaches Academy. In 2018 she served as an on-court coach for the USA Basketball U17 World Cup Team Trials.
Dowling takes over a program that was on the rise under Delisha Milton-Jones. The Waves went 22-12 last season, tied for third place in the WCC (the best showing since 2011), made the WCC Tournament semifinals (for the first time since 2010), and won the program's two first postseason games in the modern era, making it to the Round of 16 in the WNIT.