Author Chris Singleton to Speak at 2023 Larry Donnell Kimmons Memorial Lecture
Inspirational speaker and best-selling author, Chris Singleton, will give this year's Larry Donnell Kimmons Memorial Lecture, titled "Walking with God through Adversity," on Tuesday, March 14, at 6:30 PM in Elkins Auditorium on the Malibu campus.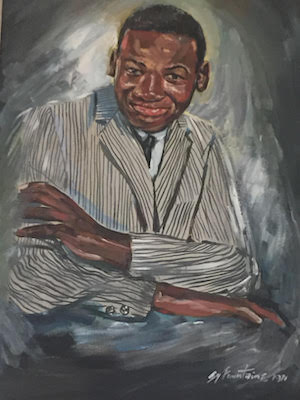 Singleton is a former professional athlete who was drafted by the Chicago Cubs in 2017. Following the loss of his mother in a racially motivated mass shooting in 2015, Singleton became a speaker and author, sharing his message of unity and racial reconciliation with National Football League and National Basketball Association teams and more than 100 other organizations across the country, including multiple Fortune 500 companies.
"I am so excited to host Christopher Singleton here at Pepperdine because he is a living example of how God can sustain one through tragedy to triumph," says J. Goosby Smith, vice president for community belonging and chief diversity officer. "Mr. Singleton's outlook on unifying us across differences is equally remarkable and credible given that his mother, Reverend Sharonda Coleman-Singleton, was one of the worshippers slain in the racially motivated hate crime that occurred on June 17, 2015, at Charleston, South Carolina's Emanuel African Methodist Episcopal Church. Mr. Singleton is an inspirational beacon of light of how God can keep us through the valley of the shadow of death."
The Larry Donnell Kimmons Memorial Lecture Series demonstrates Pepperdine University's enduring commitment to honoring the life of Larry Donnell Kimmons while also uplifting the power of remembrance as a tool to advance justice, peacebuilding, and reconciliation. Made possible by the Office for Community Belonging and Pepperdine Libraries, this lecture series takes place each year on or near the anniversary of Kimmons' death and presents speakers who explore diverse and faith-grounded perspectives on social justice.
Kimmons, a 15-year-old Black high-school student, was fatally shot by George Pepperdine College's chief security guard, William Charles "Charlie" Lane, on the evening of March 12, 1969, after visiting the Vermont Knolls campus to play basketball in the Pepperdine gymnasium. The tragedy occurred just five years after the Watts Rebellion, a six-day period of unrest motivated in part by allegations of police violence against Black residents of Watts, a Los Angeles neighborhood less than five miles away from Pepperdine's original campus, south of downtown. In 2017 the University rededicated a refurbished portrait of Kimmons (inset) that was originally commissioned in 1971 to honor his life, and 50 years later, Pepperdine established the annual lecture series to acknowledge the importance of Kimmons' life and death.