Lee Kats Speaks at Frank Pack Distinguished Christian Scholar Lecture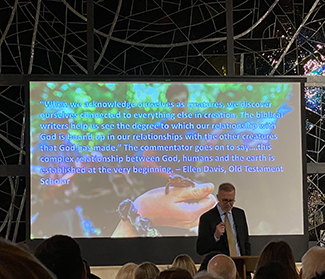 Vice Provost Lee Kats spoke at the 16th annual Frank Pack Distinguished Christian Scholar Lecture on Wednesday, January 15, 2020. Kats' lecture, titled "Humans: Biological Creatures … In the Image of God," focused on the relationships between nature, humanity, and faith.
"We alone hold a sacred role given our unique position of being created in the image of God," Kats shared at the opening of his lecture in Stauffer Chapel. After reinforcing that humans are biological creatures, just like the animals scurrying around us every day, Kats encouraged visitors to care for nature and to "stand in the image of God to all of creation." He challenged listeners to expand their definitions of "community" to include even the lizards, deer, and other creatures that make their home on Pepperdine's campus to begin addressing the drastic environmental changes around the world in powerful ways.
Kats joined Pepperdine University as a professor of biology in 1990. He has studied animal ecology, animal behavior, and conservation biology for over 25 years. He mentors students through hands-on and independent undergraduate research. Beyond Pepperdine, he serves on the editorial board for two scientific journals, two conservation organization governing board, and the scientific research board for the Aquarium of the Pacific.
The Frank Pack Distinguished Christian Scholar Lecture Program began in 2005 to honor the preacher and Christian scholar Frank Pack (1916-1998). Pack was a dedicated member of Pepperdine University's faculty for 30 years. He was named Distinguished Professor of Religion, authored hundreds of articles, and preached hundreds of sermons before his retirement in 1990.