Lisa Smith Wengler Center for the Arts to Present Catapult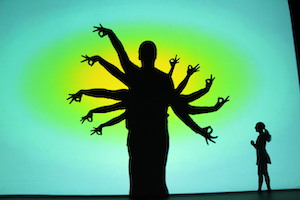 Imaginative shadow dance company Catapult will come to Pepperdine University's Smothers Theatre in Malibu on Saturday, October 16, at 7:30 PM.
Founded in 2008 by dancer-choreographer Adam Battelstein—the choreographer, creative director, and master teaching artist for the Pilobolus for 19 years—Catapult transcends the traditional dance performance with its unique combination of dance, storytelling, and sculpture. By showcasing the human body and its ability to transform, Catapult dancers work behind a screen to create seemingly impossible dancing shadow silhouettes of shapes from the world around us. With the arc of an arm, the point of a toe, or the twist of a torso, Catapult's dancers stretch their bodies and audience's imaginations, telling stories with humor and pathos by transforming magically from one shape to another. Their performances seamlessly meld cutting edge technology with classic dance technique.
First catapulting to fame as finalists on Season 8 of America's Got Talent, Catapult has since received international acclaim for their live shadow dance performances. They have thrilled audiences in over 100 cities throughout the world in locations such as North America, Europe, the Middle East and China. They have appeared on a variety of television shows, such as Good Morning America, the TodayShow, TBS' Conan, the Oprah Winfrey Show, and the 2007 Academy Awards.
For additional information, and to purchase tickets, visit the Center for the Arts website.