The Lisa Smith Wengler Center for the Arts Presents "The Marcy & Zina Show"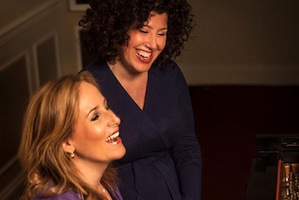 Lyricist Marcy Heisler and composer Zina Goldrich will bring their wonderfully wacky and heartbreakingly sincere musical creations to Smothers Theatre in Malibu on Tuesday, Feb. 3, at 8 p.m.
The Marcy and Zina Show puts two shining stars of today's musical theater scene front and center, with book writer/lyricist Marcy Heisler and composer Zina Goldrich singing the songs they write with wit and intelligence nd impressive musical comedy.
Heisler and Goldrich are the first women ever honored as recipients of the Fred Ebb Award for Musical Theatre Songwriting. They were also nominated for 2009 Drama Desk Awards for Outstanding Lyrics and Music for Dear Edwina and earned Lucille Lortel Award nominations for their Junie B.Jones. Goldrich and Heisler have provided original songs for The Disney Channel, Disney Interactive and Feature Animation projects, Disney Theatricals, PBS, and Nickelodeon. As performers, they have toured domestically and internationally, presenting their music at some of the finest venues, including Carnegie Hall, Canada's "Juste Pour Rire" comedy festival, and the Kennedy Center.
Goldrich and Heisler are slated to make their Broadway debut as authors of the book, lyrics and music for the Broadway musical stage adaptation of Ever After, directed by Tony Award winner Doug Hughes and choreographed by Tony Award winner Rob Ashford, set to premiere at the Paper Mill Playhouse in New Jersey in May and June of this year.
Kristin Chenoweth popularized their song, "Taylor, the Latte Boy," performing it on The Today Show, The Rosie O'Donnell Show, and in concert at Carnegie Hall, the Metropolitan Opera House, and the White House. November 2009 marked the release of MARCY AND ZINA: The Album on Yellow Sound Label, and their Songbooks Volumes 1 and 2 are available from Hal Leonard. A number of new theatrical projects are in the works, including an adaptation of the tale of Snow White and Rose Red, and a musical version of Freakin Fabulous, based on the bestselling book by author and stylemaker Clinton Kelly of TLC's What Not To Wear.
Tickets, priced starting at $15 for the public and $10 for full-time Pepperdine students, are available now by calling (310) 506-4522 or on the Center for the Arts website.