Lorenzo Romar to Return as Pepperdine Men's Basketball Coach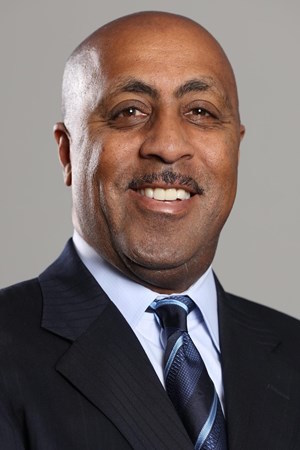 Lorenzo Romar will return to Pepperdine University and soon begin his second stint as head coach of the men's basketball program, director of athletics Steve Potts announced today.
Romar, 59, previously coached the Waves for three seasons between 1996–97 and 1998–99. He is currently in his first season as the associate head coach at the University of Arizona, following 15 years as the head coach at the University of Washington. He will return to Pepperdine full-time at the conclusion of Arizona's season.
"My comfort level with Steve Potts and President Benton played a huge role in my decision to return to Pepperdine," Romar said. "I grew up in Southern California, and at this point in my career it was my preference to stay on the West Coast. The Christian mission that Pepperdine stands for, its values, the fact that they are committed to putting forth the resources necessary to allow Pepperdine to get back to the highest level where they once were, all this is very exciting to me."
After a rebuilding season in his first season in charge of the Waves, Romar led Pepperdine to 17 and 19 wins over his next two seasons, including a spot in the NIT in 1999. He left after that year to become the head coach at Saint Louis University, but players that he recruited to Pepperdine would go on to make the NCAA Tournament in 2000 and 2002.
"Pepperdine was my first head coaching job, and I remember us not doing well our first year," Romar said. "When we took over there had been a couple of losing seasons before that, and in our first year we also had a losing season. Then in our second year, I think we were the second-most improved team in the country. To see the kids on that team experience a little more success was something that was really exciting."
In 21 seasons as a head coach at Pepperdine, Saint Louis University, and Washington University, Romar's career record is 391-284 (42-44 in the three seasons with the Waves). He won a national championship as an assistant coach at UCLA in 1995.
"Lorenzo Romar is one of the finest men that I know," Potts said. "I am extremely pleased and excited that he has agreed to rejoin our program as our men's basketball head coach. His commitment to our Christian mission, to the academic well-being of our student-athletes and to building a men's basketball program that will compete for West Coast Conference championships make him a perfect fit for Pepperdine."
Pepperdine University president Andrew K. Benton said: "I am delighted that Coach Romar is coming 'home' to Pepperdine. I admire his approach to the game of basketball and the way in which he leads his teams in preparation for the game of life. We open this new chapter with confidence, and, of course, with waves of enthusiasm."
Romar is known as one of the nation's top recruiters and helped rebuild Washington into a perennial Pac-12 contender during his 15 seasons as head coach (2002–03 through 2016–17). Thirteen of his Huskies were selected in the NBA Draft, including 10 first-round picks, such as Nate Robinson, Brandon Roy, Spencer Hawes, Terrence Ross, Marquese Chriss, Dejounte Murray and 2017 top overall pick Markelle Fultz. Future NBA All-Star Isaiah Thomas also played for Romar at Washington, one of 16 Huskies that went on to play in the NBA during his tenure.
Romar left his alma mater with the second-most wins in program history with 298, averaging nearly 20 victories a season. He led UW to a pair of conference regular-season titles (2009 and 2012) and three tournament championships (2005, 2010, 2011). The Huskies played in six NCAA Tournaments, three National Invitational Tournaments, and one College Basketball Invitational.
At Washington, he earned three Pac-10 or Pac-12 Coach of the Year honors (2005, 2009, 2012) and in 2006 was honored with the John Wooden "Keys To Life" Award. Pac-10 players once voted him as the opposing coach that they would most like to play for.
A native of Compton, California, Romar graduated from Pius X High School and earned an associate's degree from Cerritos (Calif.) Community College in 1980. He went on to be a two-year starter at Washington and a team captain as a senior. He was selected in the seventh round of the 1980 NBA Draft (141st overall) by the Golden State Warriors. He would go on to play five seasons in the NBA with Golden State, Milwaukee, and Detroit.
After the 1984–85 season, Romar joined Athletes in Action and played with the organization for seven seasons. He eventually became a player-coach with the organization. That eventually led him to becoming an assistant coach at UCLA under former Pepperdine head coach Jim Harrick. During his four seasons (1992–93 through 1995–96), in which he was the top assistant and lead recruiter, the Bruins won the 1995 NCAA title.
Romar has also long been involved with USA Basketball. He served as an assistant coach for both the U-22 team that competed at the 1997 World Championships and for the Pan American Games team in 2003. He was the head coach of the US U-18 National Team, which won a gold medal at the 2006 FIBA Americas. USA Basketball named him to its competition committee in February 2013 for a four-year term.
Romar earned his bachelor's degree in criminal justice from University of Cincinnati in 1992. He and his wife, Leona, have three daughters—Terra, Tavia, and Taylor—and they also have three grandchildren.
After winning both the Pac-12 regular-season and tournament titles, Arizona is a #4 seed in the South Regional in the 2018 NCAA Tournament and opens the tournament against Buffalo on Thursday, March 15 in Boise, Idaho.