Lynn Williams Discusses Mental Health Challenges and Barriers Women of Color Face Within Sports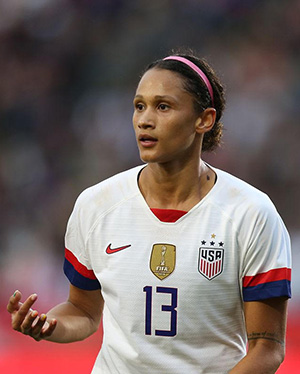 On Wednesday, April 28, 2021, at 5 PM PDT, Pepperdine University's Seaver College of Letters, Arts, and Sciences hosted the return of the W. David Baird Distinguished Lecture Series. The virtual event, titled "Discussions on Race, Sports, & Society," featured alumna and former Waves soccer player Lynn Williams ('15) in a panel discussion with Seaver College students Shelby Little and Grace Wood and Alicia Jessop, associate professor of sport administration at Seaver College.
After remarks from Seaver College dean Michael Feltner, head coach for Pepperdine women's soccer Tim Ward introduced Williams. He reflected on his time coaching her and celebrated her accolades as a prolific goalscorer from high school to the national professional stage.
"Not only is Lynn a world-class talent on the soccer field, she is also using her platform and celebrity to address issues like inequality, race, and social justice," shared Ward. "As we all know, these are difficult topics, yet Lynn, full of grace, compassion, intelligence and hope, willingly walks into these difficult topics."
Since graduating in 2015, Williams has experienced great success on and off the field. She is a member of the United States Women's National Team (USWNT) and the North Carolina Courage. Among many other wins and awards, Williams has won three National Women's Soccer League (NWSL) Championships and Shields. Beyond playing an instrumental part in the USWNT qualifying for the Olympics, Williams is on pace to become the league's all-time leader in goals and assists.
After Ward's introductions, the panel discussion began with questions from Shelby Little, a junior journalism major and current Waves soccer player, and Grace Wood, a senior journalism major. Both Little and Wood asked questions regarding balancing mental health while meeting the demands of the sport, managing hyper-critical inner voices, and more.
In response, Williams reflected on numerous injuries she sustained each season throughout her collegiate journey. She also powerfully and candidly expressed the troubles she overcame while initially transitioning to playing soccer professionally and working in a team void of encouraging team culture.
"You have to be mentally fair to yourself, acknowledge when you need a minute," Williams shared. "But also surround yourself with friends and a support system that will push you back on track...I also think you need to remind yourself that the sport is a game. You are there to have fun."
Williams also discussed barriers facing women, particularly women of color, in sports. US soccer, a largely pay-to-play sport, lacks diverse representation in women's professional leagues. Williams attributed this to a larger issue of minority groups systemically being paid less and having less expendable income to put towards youth sports and the hidden fees associated with them.
Williams referenced several actions to address this lack of representation such as changing the structure of youth soccer to expand access and adding diverse representation in advertising and sports campaigns so young people of color can begin to see themselves falling in love with the sport.
"When we speak about Black athletes, there's always a description about physical attributes as opposed to language relating to skill," Williams continued. "You get this separation of abilities just between races that don't exist."
Williams continued to describe her own experiences with discrimination throughout the sport that has required her to continually go back to her fundamental skills and footwork when coaches had discounted her skills. Especially last year at the height of protests following the deaths of George Floyd and Breonna Taylor at the hands of police, she reflected on the importance of respect driving difficult discussions with team members to address unconscious biases.
Jessop closed out the panel discussion with the question, "Where do you find the courage or motivation to keep persisting?" Williams responded by attributing a lot of her persistence to her parents and always turning to her support system for encouragement and the motivation to keep moving forward.
"Soccer has given me a platform to something bigger than myself to fight for people who don't necessarily have the platform to fight for themselves," continued Williams. "That really keeps me going."