Major League Baseball Executive and Pepperdine Faculty Member Ned Colletti Inducted into Chicagoland Sports Hall of Fame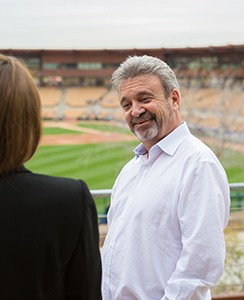 On October 28, 2021, Ned Colletti, executive in residence in Seaver College's Sports Administration program and Major League Baseball (MLB) executive for the Chicago Cubs and Los Angeles Dodgers, will be inducted into the Chicagoland Sports Hall of Fame (CSHOF). Alongside Colletti, 13 accomplished athletes and individuals will also be inducted into the hall of fame for their dedication and contributions to the world of sports in Chicago.
"This might be the strongest class in our Hall of Fame's existence," said CSHOF president Charles P. Carey. "Each year the CSHOF board works tirelessly to program an event and induction ceremony that celebrates the very best individuals in Chicago sporting history to continue our cause of supporting education and athletic programs for underprivileged youth."
Colletti has dedicated 40 years to the sports industry. He began his MLB career with the Chicago Cubs and went on to serve as the assistant general manager for the San Francisco Giants for 11 years and as the general manager of Los Angeles Dodgers for nearly 10 years. In 2017, he began teaching at Seaver College and continued his involvement with several charitable organizations to help students and young people interested in careers in sports.
"It is one of the greatest honors to be inducted into the hall of fame of my hometown," shares Colletti. "I owe it to each person who took interest in my passions and gave me these opportunities. I hope to reinvest that into my students as my way of saying thank you."
To learn more about the Chicagoland Sports Hall of Fame, visit the organization's website.