Martial Artists and Acrobats of Tianjin to Perform at Smothers Theatre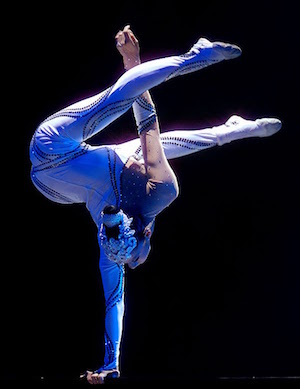 The Martial Artists and Acrobats of Tianjin, People's Republic of China will bring scores of the best acrobatic and martial artists in the world to Smothers Theatre on Thursday, September 28, at 7:30 PM—officially opening the 2017-2018 season at the Lisa Smith Wengler Center for the Arts.
The Martial Artists and Acrobats of Tianjin of the People's Republic of China was established in 1957 as a combination of the former China Circus and Acrobats that was founded in 1948. It is one of the best acrobatic troupes in China with over 100 acrobatic, magical, and martial arts performers.
Combining circus acts, illusions, aerial stunts, juggling routines, contortion tricks, feats of balance, and martial arts demonstrations, the company has had acts perform in Ringling Brothers and Barnum & Bailey Circus, Cirque du Soleil, Big Apple Circus, Swiss Knie Bros., National Circus, and UniverSoul Circus, and has traveled extensively to Australia, Finland, France, Germany, Hong Kong, Iceland, Israel, Italy, Japan, Russia, Sweden, and South Korea, among others.
The Martial Artists and Acrobats of Tianjin of the People's Republic of China has more than 30 representative acts, many of which have won prizes in national and international festivals and competitions. Leather Straps won the Silver Clown Award and Circus Art Development Association Award at the 13th Monte Carlo International Circus Festival. Double Poles won the Silver Award at the 12th Cirque de Demain Festival held in Paris, France and the Silver Lion Award at the 4th China National Acrobatic Competition. Air Acrobatics won the Golden Prize of the 10th Spring of April Friendship Art Festival in North Korea.
One-Hand Handstand seized the Golden Lion Award of the 4th China National Acrobatic Competition, the Golden Award—the first prize of the Republic President at the 19th Festival of Cirque de Demain in Paris, the Honorary Gold Lion Award, and the Artistic Innovation Award at the 5th Wuqiao International Circus Festival. At the First China National Comic Acrobatic Competition, the Comic Swan Lake and Comic Music received the Gold and Silver Award respectively. The Jars' Head Juggling won the Silver awards at the 5th Hungarian Budapest International Circus Festival (2005) and Russian International Circus Festival (2013). In 2015, the Icarian Tumbling and Jumping by 18 acrobats won the Silver Clown at the 39th Monte Carlo Circus Festival in Monaco and the First Golden Award at the 2nd China International Circus Festival in Zhuhai, China.
This performance is sponsored by Bui and Herb Simon.
Ticket prices range between $10 and $20, and are required for attendance. For additional information about the performance, and to purchase tickets, visit the Center for the Arts website.