Meet the 2016 Pepperdine Athletics Hall of Fame Honorees
Five more Pepperdine all-time greats will be inducted into the Athletics Hall of Fame this fall.
The class of 2016 will include Scott Doerner (men's tennis), Anna Picarelli (women's soccer), Michael Putnam (men's golf), Steve Rodriguez (baseball) and Julie Rubenstein (women's volleyball).
The ceremony will be held on Sunday, October 16, in Firestone Fieldhouse on the Malibu campus. Check-in and a reception will begin at 5:15 PM, with dinner and the awards presentation at 6 PM. Tickets can be purchased through the Pepperdine University Athletics page on the Eventbrite website.
"Our annual Hall of Fame ceremony is always one of our biggest events of the year," said Pepperdine director of athletics Steve Potts. "We get to welcome back five former student-athletes who achieved so much with their various programs, and we are very pleased to be able to recognize their outstanding accomplishments."
The Pepperdine Athletics Hall of Fame was established in 1980. This year's group will join 115 individuals, 14 teams, and eight special achievement recipients that have already been enshrined.
To be eligible for induction, nominees must have competed, coached for, or rendered an extraordinary service to Pepperdine University Athletics. After a list of nominations was gathered, Pepperdine's Hall of Fame Committee made the decision on this year's inductees.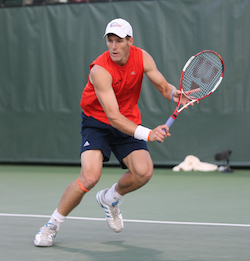 Scott Doerner, men's tennis
Played four seasons (2003 to 2006)
Hometown is Melbourne, Australia
ITA All-American in 2005 (doubles) and 2006 (singles and doubles)
Member of 2006 NCAA championship team (played number one singles and number one doubles and was named to the All-Tournament team in doubles)
2005 and 2006 WCC Player of the Year
Earned an ITA Regional John Van Nostrand Memorial Award as an outstanding senior in 2006
Three-time WCC All-Academic team
Team was 96-25 over his four seasons and also made it to the NCAA quarterfinals (2005) and second round (2003 and 2004)
Served as an assistant coach for Pepperdine's women's tennis team for six seasons (2007 to 2013)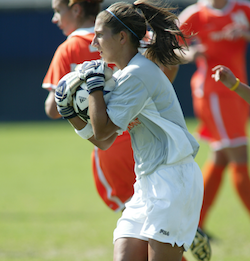 Anna Picarelli, women's soccer
Played four seasons (2002 to 2005)
A goalkeeper from Downey, California (St. Joseph HS)
Four-year starter on Pepperdine's most successful four-year run ever (program's first WCC title, two NCAA Sweet 16 appearances, four NCAA Tournament appearances)
Three-time All-WCC (2004 and 2005 second team, 2002 honorable mention) Pepperdine's career leader in saves (319), save percentage (.846), goals-against average (0.81) and shutouts (32)
Invited to a U.S. U-21 National Team camp
Went to Italy to play professionally (won two Italian National Cups and played in the European Champions League)
Made the Italian National Team and played in the 2009 European Championships and in qualifying for the 2010 World Cup
Named the All-Western Conference first team goalkeeper in 2014 for the W-League's Seattle Sounders Women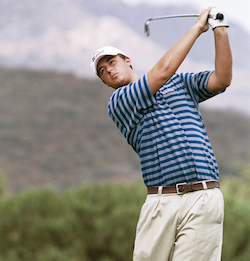 Michael Putnam, men's golf
Played four seasons (2002 to 2005)
From Tacoma, Washington (Life Christian Academy)
2005 Byron Nelson Award winner
Three-time GCAA All-American (2005 first team, 2004 second team, 2003 honorable mention)
2003 medalist at WCC Championships
Three-time All-WCC first team
Holds school career records for scoring average (71.61), top 20 finishes (36, tied), top 10 finishes (22, tied) and below-par rounds (68)
Has three of the four best single-season scoring averages in school history
Tied for first place at the 2005 NCAA Championships, but lost in a playoff
Team won WCC titles all four years and placed in the top 10 at the NCAA Championships twice
2004 and 2005 GCAA All-American Scholar
Three-time WCC All-Academic first team
PGA Tour card in 2007, 2011, 2014, 2015, and 2016
Steve Rodriguez, baseball
Played three seasons (1990 to 1992)
A second baseman from Las Vegas (Valley HS)
Two-time All-American (1991 first team)
The 1992 WCC Player of the Year
Made the All-College World Series team as the Waves won the 1992 NCAA championship
Two-time All-WCC first team
Set a Pepperdine single-season record with 104 hits in 1991 while batting .419 (the third-best average in school history)
Career batting average of .367 ranks all-time at Pepperdine
Member of Team USA in 1991 and 1992
Named one of the WCC's top 50 athletes of all-time in 2001 and to the WCC's 40th Anniversary baseball team in 2007
Selected by the Boston Red Sox in the 1992 MLB Draft
Reached the Major League with Boston and Detroit in 1995
Returned to Pepperdine as a coach (assistant for four seasons, head coach for 12 seasons) before departing to become Baylor University's head coach prior to the 2016 season
Julie Rubenstein, women's volleyball
Played four seasons (2005 to 2008)
An outside hitter from Camarillo, California (Oaks Christian HS)
2008-09 Mike Gilleran Award (WCC's top female scholar-athlete)
One of 10 finalists for 2008 to 2009 NCAA Woman of the Year award
2008 AVCA All-American third team
Four-time All-WCC (three-time first team, 2005 honorable mention)
2005 WCC All-Freshman team
Number three all-time at Pepperdine in kills (1,743) and points (2,064)
Led Pepperdine in kills all four seasons
Played in four NCAA Tournaments (including 2005 Sweet 16) and went 73-43 in four years
2007 and 2008 CoSIDA Academic All-District
Three-time WCC All-Academic
Pepperdine's first-ever representative on the NCAA's National Student-Athlete Advisory Committee
Played with the U.S. A2 team in 2007, a USA Select team in 2008, and a senior-level national team in 2009