Meet Star of The Princess Bride at Pepperdine
Actor and author Cary Elwes will present a free screening of the fairy tale film classic, The Princess Bride, at 7 p.m. on Saturday, Feb. 21, in Elkins Auditorium, Malibu campus. Free admission and no registration needed.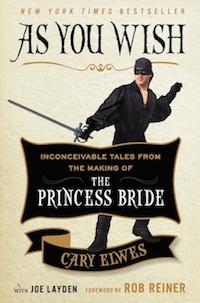 The Princess Bride, based on the novel by William Goldman, has been a family favorite and cult classic for nearly three decades. Only a modest hit in theaters in 1987, the movie gained popularity on VHS, and is now ranked by the American Film Institute as one of the top 100 greatest love stories, and by the Writers Guild of America as one of the top 100 screenplays of all time. The film's timeless love story and humorous screenplay have endured, remaining as relevant and charming for fans today as it was at its premiere.
Elwes, who starred as Westley, the dashing hero and beloved childhood beau of the Buttercup character, will also sign copies of his book, As You Wish: Inconceivable Tales From the Making of The Princess Bride. The book includes firsthand, behind-the-scenes observations and stories from the set during filming, original photographs, and interviews with co-stars Robin Wright, Wallace Shawn, Billy Crystal, Christopher Guest, and Mandy Patinkin, as well as author and screenwriter Goldman, producer Norman Lear, and director Rob Reiner.
Elwesis a celebrated English actor who has also starred in such films as Robin Hood: Men in Tights, Glory, Days of Thunder, Twister, and Saw, among many other acclaimed performances.
For more information, visit Pepperdine's Center for Entertainment, Media and Culture.