Music Students to Showcase Up Against the Screen Concert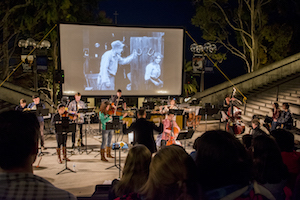 The Seaver College Fine Arts Division will host the third biennial Up Against the Screen outdoor film concert, which will feature original music scores composed by Pepperdine students. The concert will take place at the Amphitheatre on the Malibu campus on Monday, April 16, at 7:30 PM.
Up Against the Screen will feature screenings of three classic silent films, accompanied by music composed by The Pickford Composers, three Pepperdine student composers selected to develop an effective music score for live players. The original music pieces will be performed live by the Pickford Ensemble, a chamber ensemble comprised of Pepperdine student musicians under the direction of professor of music N. Lincoln Hanks, with support from chamber music director Louise Lofquist.
"This is such a unique music and film event. Audience members will be thrilled to hear the creative work of our talented students alongside these fine films—all under the stars at our outdoor Amphitheatre," said Hanks.
This year's silent films will include Le voyage dans la lune, directed by Georges Méliès with new music by Joshua Edward; La coquille et le clergyman (excerpts), directed by Germaine Dulac with new music by Wynn Nordlund; and Metropolis (excerpts), directed by Fritz Lang with new music by Jeremy Zerbe.
The Pickford Composers are provided special funding at the beginning of the fall semester, and receive direction and creative insights on the art and presentation of silent film scoring from Hanks through private weekly lessons. Selected through an audition process, The Pickford Ensemble, the University's premier new music group, is comprised of Pepperdine's finest student performers. The films for Up Against the Screen are selected by Hanks from the archives of the Academy of Motion Picture Arts and Sciences.
This performance is free and open to the public. For additional information, visit the Events page on the Seaver College website.