Musical Group The Lone Bellow to Perform at Pepperdine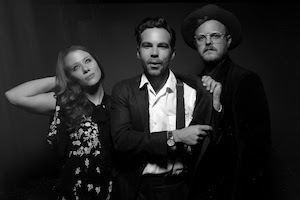 The Lone Bellow will bring their passionate, deeply personal sound to Pepperdine University's Smothers Theatre in Malibu on Thursday, October 4, at 8 PM.
Known for their transcendent harmonies, serious musicianship, and raucous live performances, The Lone Bellow burst onto the scene with their self-titled debut in 2013. The Brooklyn-based band, featuring Zach Williams (guitar and vocals), Kanene Donehey Pipkin (multi-instrumentalist), and Brian Elmquist (guitar), followed up their victorious first album with Then Came The Morning in 2015. The album was produced by The National's Aaron Dessner and nominated for an Americana Music Award, and the band appeared on Jimmy Kimmel Live, Late Show With David Letterman, Conan O'Brien, CBS This Morning, Later...with Jools Holland, and The Late Late Show With James Corden. The group's first two albums graced the Billboard 200.
The Lone Bellow's most recent album, Walk Into A Storm, was produced by legendary music producer Dave Cobb (Chris Stapleton, Sturgill Simpson, among others) and released on September 15, 2017, via Descendant Records/Sony Music Masterworks. Walk Into A Storm represents the most introspective and personal of The Lone Bellow's music, and is reflective of the life changes and obstacles the group has recently faced. Not only did all the members—which also now includes Jason Pipkin on keys and bass—and their respective families work through a relocation from their beloved adopted home of New York City to Nashville, but on the day they were to begin recording the album, Elmquist entered a rehab facility for issues stemming from alcohol abuse.
The Lone Bellow has long nurtured a deep and highly personal connection with their music. But with Elmquist's treatment, the band turned inward like never before, channeling their passion for songwriting into a broad range of emotion, blending tragedy and darkness with joy and gratitude in their most poignant material to date.
In support of Walk Into A Storm, the band is currently performing on their TRIIO Tour, an acoustic tour featuring new arrangements of their entire repertoire, debuts of new and unrecorded songs, live requests, and behind-the-scenes stories and anecdotes from the band members.
Ticket prices range between $10 and $40, and are required for admission. For additional information about this performance, and to purchase tickets, visit the Center for the Arts website.