Musical Group Won by One Announces Summer 2021 Concert Tour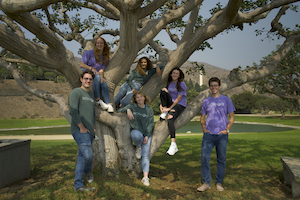 Won by One, Pepperdine University's six-member a cappella performing group , will give live concerts at churches, summer camps, and special events in California, Oregon, and Washington from June 20 through August 1, 2021. In spring 2021 the group released He Does, a new album featuring nine new songs available on Deezer, iHeartRadio, Spotify, and YouTube Music.
Along with demonstrating musical ability, academic excellence, strength of character, and spiritual commitment, Won by One collaborates with the Office of Church Relations and the Office of Admission at Pepperdine to strengthen connections between the institution and Churches of Christ, and to recruit Christian students for the University.
"This group had a huge influence on my faith and my relationship with God. At the core, we are a close group of friends that support each other," shares Won by One member Rachel Higgins ('21), who recently graduated from Seaver College with a bachelor's degree in communication and a minor in nonprofit management. "Always having people to rely on throughout my four years at Pepperdine was so meaningful. It taught me the importance of community and growing alongside people. I believe being a part of Won by One positively impacted my spiritual life and health."
For additional information about the Won by One summer 2021 performance dates and locations, visit the Pepperdine University's Spiritual Life website.