Nashville Singer-Songwriters to Perform at 46th Annual Pepperdine Associates Dinner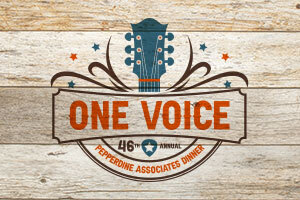 On Saturday, May 7, the 46th annual Pepperdine Associates dinner will celebrate the Pepperdine community's oneness in spirit and the ways in which members of the community use their voices to contribute to the world around them and bring them closer to one another. The event, which will be held at the Beverly Wilshire in Beverly Hills, California, will feature performances by singer-songwriters Kelley Lovelace and Chris DeStefano, who will share their experiences as musicians and present the processes and driving philosophies that connect them to their work and respective communities.
Lovelace has written 17 chart-topping tunes for artists such as Carrie Underwood, Jason Aldean, and Brad Paisley, including Paisley's 1999 hit "He Didn't Have to Be," which won Song of the Year at the Country Music Association (CMA) Awards, Academy of Country Music Awards, and the Nashville Network Music Awards. He was co-author of a gift book for stepfathers titled He Didn't Have To Be and wrote his second book, If You Have A Dream, I've Got A Plan, for all aspiring songwriters. Lovelace contributes his time and talents as the celebrity spokesman for Bethel Bible Village, a children's home in his hometown of Hixson, Tennessee. He also organizes and performs live to help raise funds for organizations such as St. Jude Children's Research Hospital and Pursue Ministries.
DeStefano, a New Jersey native, performed for the first time with the Academy Boys Choir of Philidelphia and began songwriting at the age of 13. He has written more than 20 chart-topping songs for artists such as Underwood, Luke Bryan, and Dan + Shay. He has won three CMA Triple Play Awards and worked on Grammy-winning projects for Underwood and Kelly Clarkson. He is currently president and CEO of WinSongs Music and serves on the board of directors of Nashville Songwriters Association International.
To learn more about the event and to register to attend, visit the Pepperdine Associates dinner website.