New Pepperdine Health Ambassadors Program Monitors COVID-19 Safety Protocols at Malibu Campus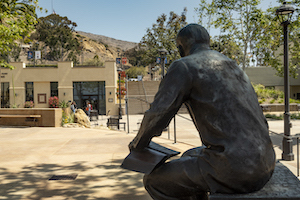 On September 17, 2021, Pepperdine University launched the Pepperdine Health Ambassadors (PHA) program in a continued effort to help ensure the health and well-being of students, faculty, and staff at the Malibu campus amid the ongoing coronavirus pandemic. Modeled after similar programs in higher education institutions around the United States, this new peer-to-peer program trains and deploys a group of students to key high-traffic locations around the Malibu campus to monitor the University's COVID-19 compliance policies.
"We are committed to keeping all members of our community safe as they go about life on campus, and this program will help to assure that outcome," said Jay Brewster, provost of Pepperdine University.
Developed through a partnership between several Pepperdine departments, including the Department of Public Safety, Office of the Provost, Pepperdine Libraries, the Seaver College Dean's Office, Student Activities, Student Affairs, and members of the University's executive leadership team, the goal of the PHA program is to promote awareness of and compliance with the policies, particularly the policy requiring the wearing of face coverings at all indoor venues and spaces, to recognize individuals who are in compliance with the policies, and to monitor common areas such as the Howard A. White Center, Payson Library, Waves Cafe, and academic buildings.
Training will be provided by staff at the Department of Public Safety and Student Activities and will focus on learning policies and information related to COVID-19, with emphasis on the importance of wearing face coverings.
"The well-being of our students, faculty, and staff is a top priority at Pepperdine, and through the launch of this program we are enforcing COVID-19 protocols to help keep our on-campus community safe," expressed Dawn Emrich ('91), director of the Department of Public Safety at Pepperdine University. "Pepperdine continues to monitor COVID-19 conditions in Los Angeles County, and we deeply appreciate the community's cooperation as on-campus activities resume."
For additional information about the PHA program, contact Dawn Emrich at 310.506.4700.