Pepperdine Alumni to Share Stories of International Study Experiences in ARTSreach: Travel and Adventure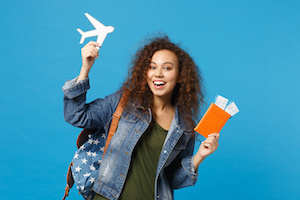 As part of the spring 2021 virtual theme-based ARTSReach program for teachers and schoolchildren in Los Angeles and Ventura County, the Lisa Smith Wengler Center for the Arts will present ARTSReach: Travel and Adventure from May 10 through June 6, 2021. ARTSReach: Travel and Adventure will feature a special segment entitled Pepperdine Alumni Story Time, in which a select group of University graduates will explore stories of their time studying abroad. From traveling, to learning new languages and cultures, to fun experiences, Pepperdine Alumni Story Time will provide young students with a firsthand account of international travel with the goal to ignite their passion for adventure.
"After many months of the coronavirus pandemic, we knew that by spring we would all be ready to daydream about travel," shares Rebecca Carson, managing director of the Center for the Arts. "You understand the truly universal power of the arts when you see schoolchildren from Los Angeles and Ventura County clap, laugh, dance, and sing along with performers from all across the globe. The arts allow you to experience thoughts, ideas, music, and experiences from other lands and other cultures without needing travel money or a passport."
For Natalie Leonard ('18), whose vocals as a soprano will be showcased in an ensemble rendition of Mozart's "Quintet" from Die Zauberflöte and a Catalan lullaby, "El Noi de la mare," accompanied by alumnus Brig Urias ('16), classical music opened the door to numerous opportunities for travel and adventure. A two-time participant of the Heidelberg Summer Music Program offered through Seaver College, Leonard also traveled to Hermagor, Austria, for a performance that combined the musical stylings of Hermagor choristers and Pepperdine students. "That was the most magical international experience I have ever had, because it confirmed that no matter where you are from or what language you speak, we are all human and above all, music is the language of all humanity," she says.

"Exposing children to the idea of international travel expands their worldview and broadens their understanding of other people and cultures," Leonard explains. "I believe this awareness helps to encourage acceptance and understanding in a world that can sometimes be judgemental and negative."
Fernando Grimaldo ('18), a vocalist who served as a student technician at the Center for the Arts during his time at Seaver College, will incorporate a Spanish-language art song into his two-part storytelling segment. The alumnus of the Heidelberg Summer Music Program will share his experiences of transcending language barriers through music in Germany as well as a story about singing a song in Spanish during his senior recital.
"It was the first time my grandparents understood me without the help of my parents, which is significant because I am not fluent in Spanish, so communicating with them has always been an issue," Grimaldo reveals. "I am telling these stories because I didn't really understand the magnitude and the emotional capabilities that came with music. Even though I am not fluent in German or Spanish, music has allowed me to communicate effectively in other languages and to emotionally affect my audience, including my grandparents."
Throughout his childhood, Grimaldo, who was raised in a low-income neighborhood in Houston, Texas, did not have much interaction with other lifestyles or cultures outside of his immediate family and school friends. "I didn't think or wonder what it might be like to travel to Europe or Asia or anywhere else. All I had experienced was my own culture and a small subsection of it at that," he says. "Now as an adult, I realize how small our perspectives are in comparison with those in other countries, and that so much history, art, music, and life has been created in hundreds and thousands of years before America was even thought about."
Grimaldo also explains that ARTSReach is personally meaningful for him because the program's target audience comes from a similar background. "I know firsthand what kind of experiences and opportunities are promoted or advertised in underprivileged school districts and neighborhoods, and the majority of them primarily encourage only graduation," he says. "Hopefully this program can inspire children to see that more is possible and that there are so many cultures that haven't yet been experienced."
Alexander Taite ('07), who will digitally perform the prerecorded Die Zauberflöte "Quintet" alongside Leonard and Grimaldo, will explore his unique experiences as a professional beatboxer in hopes that the young audiences will discover a passion for both international travel and artistic expression.

"International travel is the best way to create a healthy perspective of our own privilege and shortfalls in America," Taite says. "All children should have the opportunity to see what life is like in other places, with other governments and other social structures. Honestly, many adults can benefit from that expanded perspective, too."
During continued school campus closures, the Center for the Arts has transitioned the ARTSReach program from in-person performances, activities, and tours to virtual experiences combining education with entertainment. Each month's content includes five curated activities that teachers can share with their students throughout a four-week period.
For additional information about ARTSReach: Travel and Adventure, visit the Center for the Arts website.