Pepperdine Alumnus Receives Lilly Graduate Fellowship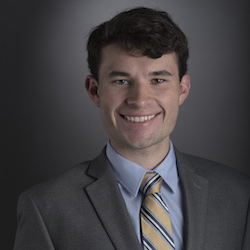 Seaver College alumnus Michael Burton ('17) has been selected as one of 10 Lilly Graduate Fellows.
Burton, a Seaver Scholar and philosophy and economics double major from Miamisburg, Ohio, graduated from Pepperdine University summa cum laude. He was accepted to, and offered funding by, the PhD programs in philosophy at The University of Texas at Austin, University of Arizona, and Yale University. He will enter Yale in the fall of 2017.
"One benefit of being a Lilly Graduate Fellow is that I will take part in a colloquium with my cohort of Fellows for three years, discussing literature and important ideas," Burton shares.
"I hope to gain connections with the other students in my cohort and our mentors that will prove helpful and fulfilling during my time in graduate school and beyond."
While at Pepperdine, Burton played on the Pepperdine rugby team, was inducted into the philosophy honor society Phi Sigma Tau, was president of the Philosophy Club, and participated in the Classics Club, the Economics Club, and Veritas Club.
He also took part twice in Pepperdine's Summer Undergraduate Research Program, studied in London for a semester, and in 2016 attended the Summer Seminar in Philosophy at University of Colorado at Boulder. His main philosophical interests are the metaphysics of space, time, and motion, the philosophy of logic, and the philosophy of mathematics.
This year's 10 Fellows were selected in early spring by an eight-member selection committee who interviewed 16 finalists (out of 56 applicants) in Indianapolis, Indiana.
The Fellows will meet together for three days at an Inaugural Conference from July 31 to August 3, also in Indianapolis, with their mentors, Lisa DeBoer of Westmont College and John Ware of Xavier University in Louisiana. Following this Inaugural Conference, the Fellows will embark on a long-distance colloquium, engage in one-on-one mentoring relationships, and participate in three additional conferences. All 10 are pursuing terminal graduate studies in humanities or the arts.
The Lilly Graduate Fellows Program is funded by a generous grant from Lilly Endowment Inc. Thus far, the program has selected a total of 10 cohorts of Graduate Fellows from the current 100 schools that make up the Lilly Network of Church-Related Colleges and Universities. Lilly Graduate Fellows participate in a three-year program in which they meet regularly with a mentor, attend four conferences, participate in a long-distance colloquium, and receive three annual stipends of $3,000 ($9,000 total) to use at their discretion.
Founded in 1991, the Lilly Fellows Program in Humanities and the Arts seeks to strengthen the quality and shape the character of church-related institutions of higher learning through three programmatic initiatives. In addition to the Lilly Graduate Fellows Program, it offers postdoctoral teaching fellowships for young scholars who wish to renew their sense of vocation within a Christian community of learning in order to prepare themselves for positions of teaching, scholarship, and leadership within church-related institutions.
It also maintains a collaborative National Network of Church-Related Colleges and Universities that sponsors a variety of activities and publications designed to explore the Christian character of the academic vocation and to strengthen the religious nature of church-related institutions. The National Network represents among its current membership of 100 schools a diversity of denominational traditions, institutional types, and geographical locations.
For additional information about scholarship opportunities at Pepperdine University, visit the Seaver College Fellowships website.