Pepperdine and Childsplay to Present Tomás and the Library Lady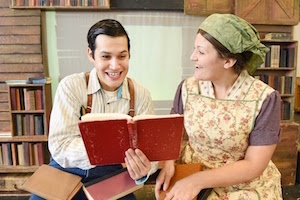 Pat Mora's inspiring book Tomás and the Library Lady—based on the true story of educator Tomás Rivera—will come to life in a bilingual play with music at Pepperdine University's Smothers Theatre in Malibu on Sunday, September 30, at 2 PM.
There will be a free, open to the public Family Art Day from noon to 2 PM in the Gregg G. Juarez Palm Courtyard before the performance, featuring hands-on art projects and Weisman Museum tours.
Tomás, the son of migrant workers, was born in Texas and loves the stories Papa Grande tells to him. One day while his family is in Iowa picking crops, Tomás meets the Library Lady and nothing is ever the same again. Soon his imagination takes off as he reads book after book, discovering a world filled with dinosaurs, tigers, and explorers.
"I believe that Tomás and the Library Lady is an empowering story for young people because it speaks about following your dreams, about using your imagination, the power of reading books, and making new friends," said playwright José Cruz González, who wrote the play in partnership with Childsplay Theatre in Tempe, Arizona.
While creating the play, González researched the life of Tomás Rivera, contacted his widow and brother, and even visited the Tomás Rivera Library at the University of California at Riverside. "As I dug into the story of the real Tomás Rivera, I found so much to add into the adaptation," González said.
Since Childsplay Theatre premiered the play in 2006, this show has embarked on four statewide tours throughout Arizona and three national tours.
Childsplay, Inc. is a nonprofit theatre company of professional, adult artists who perform for and teach young audiences and their families. The mission of Childsplay is "to create theatre so strikingly original in form, content, or both, that it instills in young people an enduring awe, love, and respect for the medium, thus preserving imagination and wonder, the hallmarks of childhood which are keys to the future."
This production is recommended for ages 5 and up. Ticket prices range between $10 and $15, and are required for admission. For additional information about this performance, and to purchase tickets, visit the Center for the Arts website.