Pepperdine Announces New Head Baseball Coach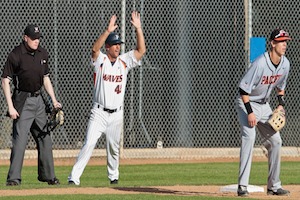 Pepperdine University has named Rick Hirtensteiner as head coach of the Waves' storied baseball program. Hirtensteiner has been the team's assistant coach for 17 years, and is a member of the forthcoming 2015 Pepperdine Athletics Hall of Fame induction class. He is now the fourth former player at Pepperdine to assume head coaching duties.
During Hirtensteiner's tenure as an assistant, the Waves have won six West Coast Conference (WCC) regular-season crowns and advanced to the postseason 10 times. In 2014, Pepperdine advanced past the NCAA Tournament regional round for the first time since 1992. The Waves won the San Luis Obispo Regional with a 3-0 record to advance to their first-ever NCAA Super Regional (since the round was instituted in 1999), eventually falling 2-1 in a three-game series at nationally-seeded TCU.
Pepperdine returned to the NCAA Tournament in 2015 after winning its second-straight WCC Tournament crown with wins over BYU, San Diego and Loyola Marymount.
"Rick was an accomplished student-athlete here, he has contributed significantly to our program as an assistant coach and I am convinced he will continue the strong leadership and the championship tradition of our baseball program for many years to come," said Steve Potts, director of Athletics. "We are fortunate to have Rick as our new head coach."
The three other former Pepperdine players and head coaches include Gary Marks, 1963-67; Gail Hopkins, 1968; and Steve Rodriguez, 2004-15. Hirtensteiner replaces Rodriguez who left to take on a new challenge as the head baseball coach at Baylor University, in Waco, Texas.
"I am honored, humbled and blessed to be able to follow in the footsteps of (former coaches) Dave Gorrie, Andy Lopez, Frank Sanchez and Steve Rodriguez," said Hirtensteiner. "Steve has done a great job during the last 12 seasons directing the Pepperdine baseball team – building character, achieving in the classroom, succeeding on the field – and I look forward to building upon that Pepperdine tradition.
During Hirtensteiner's collegiate career at Pepperdine (1985-89), the Waves won four WCC titles and advanced to the NCAA Tournament each season, compiling a cumulative four-year record of 164-76-7 (.678). The Waves earned a national Top 20 ranking all four seasons. Hirtensteiner was tabbed the 1989 WCC Player of the Year and also earned All-American first team notice by Baseball America.
He was the first-ever Pepperdine player of any sport to earn CoSIDA Academic All-American first team honors, doing so in 1989 after earning a bachelor's degree in business administration. He was also recognized as the WCC's Male Scholar-Athlete of the Year, becoming just the second Pepperdine athlete to earn the prestigious award.
A three-time All-WCC pick, Hirtensteiner had a .337 career batting average and is the Waves' all-time career leader in triples (17), and also ranks among the top five in base hits (295), runs scored (228), RBI (175) and at-bats (876).
Hirtensteiner will be inducted into the Pepperdine Athletics Hall of Fame this October.
"I'd like to thank Dr. Potts and President Benton for entrusting the team to me, and for allowing my family and I to continue to call Pepperdine 'home,'" Hirtensteiner stated.
Follow Hirtensteiner on Twitter.