Pepperdine Annual Giving Day Raises More Than $1 Million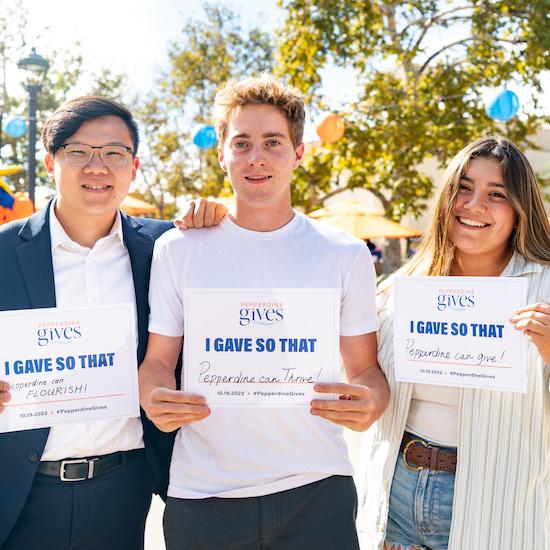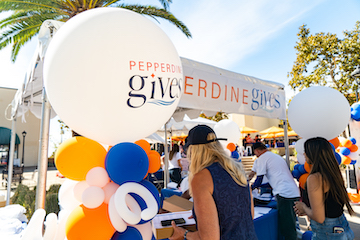 Waves gave in record numbers at Pepperdine Gives, the University's annual day of giving, which kicked off at midnight on Wednesday, October 19.
Nearly 3,000 gifts totaling more than $1 million were raised on one remarkable day when Waves were invited to give to a Pepperdine school, program, or passion of their choice. The community celebrated throughout the day with festivities across Pepperdine's five campuses that featured games, giveaways, phone-a-thons, and opportunities to come together with the shared purpose of advancing University initiatives.
"I continue to be amazed at the spirit and generosity of our Pepperdine family," says Pepperdine president Jim Gash (JD '93). "This spirit shined brightly once again as our community rose to the challenge to propel Pepperdine and its students forward into our increasingly bright future."
Pepperdine's athletic programs, the Sudreau Global Justice Institute at the Caruso School of Law, the Youth Leadership Initiative, and various initiatives at Pepperdine's five schools led the charge with total dollars raised. Beyond the community's deep desire to give back to the place that prepared them for lives of purpose, the success of Pepperdine Gives was bolstered by impactful messaging that reinforced Pepperdine's culture of giving, commitments from the University's leadership boards, and a phone-a-thon that connected hundreds of student, administrator, and executive leadership volunteers with community members throughout the day.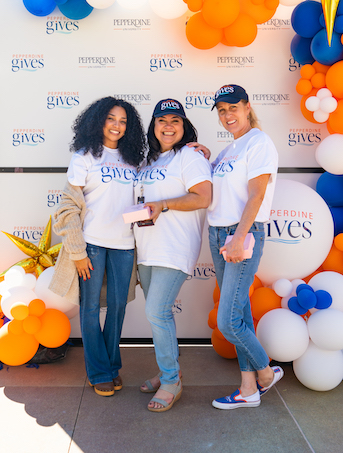 "Our community gives because of a culture of giving that is driven by the purpose-driven mission that is cultivated and nurtured at Pepperdine," says David Johnson ('92, MA '94), vice chancellor of engagement and mass appeal. "Our community gives in ways that are meaningful to them because they want to change the world guided by Christian principles. George Pepperdine didn't just create a college that delivers a superior academic experience. He created a Christian college where its students, faculty, staff, and alumni become servant leaders in the image of Christ, and that has been the driving force behind the success of Pepperdine Gives."
Leadership boards, including the University's Board of Regents, the University Board, and other boards across Pepperdine's five schools, also came together to encourage and challenge each other to give matching gifts that would make a deeper impact on various University initiatives. More than $100,000 in matching gifts were raised for Seaver College scholarships, followed by the School of Public Policy Dean's Excellence Fund, the RiSE program, and the Youth Leadership Initiative, among others.
"The practice of giving as a community transcends beyond its direct impact on a particular project or initiative," says Dee Anna Smith ('86), chair of the Pepperdine University Board of Regents. "Collective giving demonstrates our community's commitment to its growth and the advancement of University offerings for generations to come. It is the best and most prudent way to ensure Pepperdine students have the resources they need to continue to thrive in an environment that nurtures their personal, spiritual, relational, and educational growth."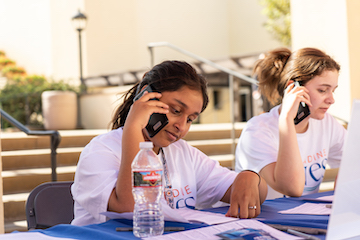 Johnson especially notes the efforts of the University Advancement team, the Integrated Marketing Communications department, University Events, and the hundreds of student, faculty, staff, and alumni volunteers who dedicated their time and energy to the campaign. "It comes down to the messaging," he says. "Reinforcing our Christian faith, our deeply held values, and our commitment to strengthening students for lives of purpose, service, and leadership encourages our community to go out into the world and make a difference. The success of this year's giving day compared with the results from years past is due to people changing the way they give to match the culture of who we are and why we do what we do."
"We are not just giving to Pepperdine," Johnson continues. "We are creating a culture of giving through Pepperdine because that's who we are. We are people of service who want to create a legacy. This is about changing the world."