Pepperdine Athletics Announces 2015 Hall of Fame Class
Four more of Pepperdine University's all-time great student-athletes, plus the long-time "Voice of the Waves," will be inducted into the Athletics Hall of Fame this fall.
The class of 2015 will include Al Epstein (broadcaster), Rick Hirtensteiner (baseball), Levy Middlebrooks (men's basketball), Noelle Porter (women's tennis), and Tom Sorensen (men's volleyball).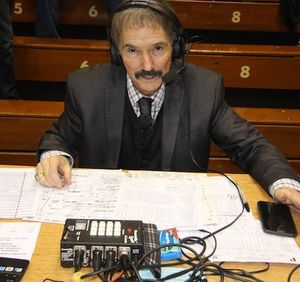 The ceremony will be held on Sunday, Oct. 18, in Firestone Fieldhouse, Malibu. Check-in and a reception will begin at 5:15 p.m., with dinner and the awards presentation at 6 p.m. Tickets are $60 per plate and can be purchased by contacting Jamil Macias at 310-506-4935 or jamil.macias@pepperdine.edu. The deadline is October 10 to make a reservation.
"Our Hall of Fame will be enriched with the addition of these five extremely deserving individuals this fall," said Pepperdine Director of Athletics Steve Potts. "The Hall of Fame ceremony is always one of the highlights of the school year, and we are looking forward to celebrating the accomplishments of this group."
The Pepperdine Athletics Hall of Fame was established in 1980. This year's group will join 110 individuals, 14 teams and eight special achievement recipients that have already been enshrined.
To be eligible for induction, nominees must have competed, coached for, or rendered an extraordinary service to Pepperdine University Athletics. After a list of nominations was gathered, Pepperdine's Hall of Fame Committee made the decision on this year's inductees.
Al Epstein, broadcaster
The 2015-2016 season will mark his 31st season as a Pepperdine broadcaster
Began his affiliation during 1985-86 doing color commentary for men's basketball
At the conclusion of the 2015 season has called 908 consecutive men's basketball games
Has broadcasted more than 40 percent of the men's basketball games that Pepperdine has ever played, including 457 wins and 12 postseason appearances
Has handled broadcasting and/or public-address announcer duties for several other Pepperdine sports, including baseball, women's basketball, men's and women's volleyball, and women's soccer
The 2003 recipient of the West Coast Conference's Sam Goldman Award.
Rick Hirtensteiner, baseball
Played four seasons (1986-1989)
An outfielder from Ventura, Calif. (Buena HS)
1989 All-American first team by Baseball America
1989 CoSIDA Academic All-American first team
1989 WCC Player of the Year
1989 WCC Male Scholar-Athlete of the Year
Three-time All-WCC first team and once on the second team
On Pepperdine's all-time lists, ranks number 1 in triples (17) and total bases (470),

number

2 in runs (228),

number

3 in hits (295) and RBI (176),

number

4 in at-bats (877),

number

5 in games played (239), tied for

number

7 in home runs (28),

number

8 in on-base percentage (.441)
Waves went 164-76-7 in his four seasons, winning three WCC titles and advancing to four NCAA Regionals
Played with USA Baseball in summer 1987
Named to WCC's 40th Anniversary All-Time Team in 2007
Selected by the Angels in the eighth round of the 1989 MLB Draft
Played professionally for seven seasons in the minors
Has been one of Pepperdine's assistant coaches the last 16 seasons (and 17 of the last 18)
Levy Middlebrooks, men's basketball
Played four seasons (1984-85 through 1987-88)
A 6-foot-7 forward from San Francisco (St. Ignatius HS)
The 1988 WCC Player of the Year
A two-time All-WCC first teamer
The 1985 WCC Freshman of the Year
A two-time All-WCC Tournament selection
Scored 1,548 points (ranked third at Pepperdine at the end of his career, now

number

7)
One of five players at Pepperdine to score 40 points in a game (had a 40-point, 25-rebound game at LMU)
Set Pepperdine records for career rebounds (972, now

number

2) and minutes played (3,983, now

number

2)
Still holds Pepperdine record for games started (all 121 of his career)
Led the WCC in rebounding as both a junior and senior (10.7 in 1987-88, the last Wave to average double-figures)
Teams won two WCC regular-season titles, played in the NCAA Tournament twice and the NIT once
Noelle Porter, women's tennis
Played four seasons (1989-92)
From San Clemente, Calif. (San Clemente HS)
Five-time All-American (singles and doubles in 1989, singles and doubles in 1991, singles in 1992)
Won the WCC championship in singles in 1991 and 1992 and in doubles in 1991
Posted a career singles record of 54-12 (.818) in dual matches, the third best winning percentage in school history
She and Janna Kovacevich went 18-1 (.947) in dual matches in 1991, tied for the second-best single-season winning percentage in doubles
Team won four WCC titles, played in the NCAA Tournament all four years (reaching the quarterfinals three times), ranked among the nation's top 12 teams all four years and had a four-year record of 71-32.
Tom Sorensen, men's volleyball
Played four seasons (1990 through 1993)
An outside hitter from Racine, Wis. (Racine Case HS)
Earned All-American first team honors each of his final three seasons
A four-time all-conference selection (the last three on the first team)
Made the NCAA All-Tournament Team in 1992 when the Waves won the national championship
The National Freshman of the Year in 1990
Made the MPSF's 15th Anniversary second team
On Pepperdine's career lists, ranks second in kills (2,207), second in service aces (155), second in points (2,645.5) and sixth in blocks (464)
For the sideout scoring era, holds school single-season records for kills, service aces and points
Led the Waves in kills and service aces all four seasons
Played on the 1996 U.S. Olympic Team