Pepperdine Campuses to Become Smoke Free Beginning Fall 2018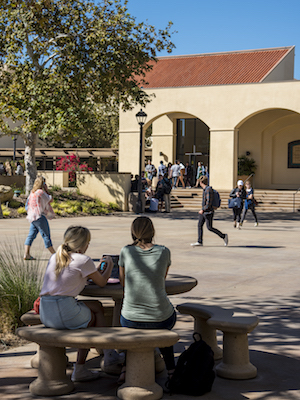 Effective August 1, 2018, all Pepperdine campuses will become 100 percent smoke free. This new policy, approved by the University Management Committee, will apply to all campuses—both domestic and international—though designated outdoor areas at graduate campuses continue to be determined by building lease agreements.
While the University prepares to formally implement this new policy next fall, designated smoking areas on the Malibu campus have been reduced to two locations for the 2017-2018 academic year: one outside Smothers Theatre on the main campus and one in the parking lot on the Drescher Graduate Campus.
"This change in practice is a reflection of the care and concern many in our University have brought forward regarding the health of our community members as well as stewardship of our environment," said Lauren Cosentino, chief human resources officer at Pepperdine University. "I'm especially appreciative of the way in which Pepperdine has approached this change with sensitivity to those who will be personally impacted. Becoming smoke free is another example of Pepperdine thoughtfully considering the well-being of our community while also providing care and support to each individual."
Pepperdine now joins nearly 1,800 other campuses in the United States that are 100 percent smoke free. A smoke-free campus will reduce health risks among community members, encourage healthy living, and reduce cigarette litter on campus and the resultant risk of wildfire. In addition, the University hopes that this change will broadly discourage the use of tobacco, which continues to be the leading cause of premature and preventable deaths in the United States.
Pepperdine acknowledges that certain individuals may experience extreme difficulty with smoking cessation, and is committed to treating those who smoke with respect, dignity, and care. For community members who wish to stop smoking, the University encourages participation in one of its subsidized cessation programs, which are available to all faculty, staff, and students.