Pepperdine Caruso School of Law to Host Discussion Highlighting Legacy of Congressman John Lewis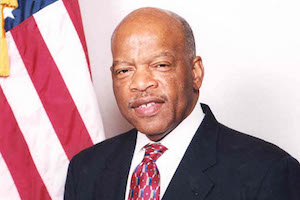 Pepperdine Caruso School of Law will host the online discussion "Congressman John Lewis and the Future of Voting Rights: A Reimagining Justice Event" on the Zoom platform on Thursday, August 27, at 1 PM PDT.
Chalak Richards (JD '12), assistant dean for student life, diversity, and belonging, will host the panel discussion inspired by the New York Times podcast, The Life and Legacy of John Lewis. Participants are encouraged to listen to the 38-minute podcast and come prepared to discuss the life of John Lewis and the future of voting rights.
Upon registration, participants are invited to give a gift that will go directly to Pepperdine Caruso School of Law's Student Relief and Recovery Fund. This fund ensures that students will continue to receive the instruction and support they need as they adapt to a new and rapidly changing educational reality.
For additional information about this event, and to register to attend, visit the Pepperdine Caruso School of Law page on the Engage website.