Pepperdine Caruso School of Law to Host Panel Discussion on Resilience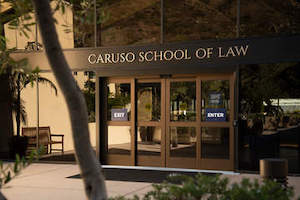 Pepperdine Caruso School of Law will present the panel discussion Resilience in Response to Professional Setbacks on the Zoom platform on Monday, October 12, 2020, at 12:30 PM PDT. Panelists will share their personal experiences and offer tools for recovering positively to career reversals.
The panel will include:
Clinical Professor of Law and Assistant Dean of Clinical Education and Global Programs, Caruso School of Law
Vice President for Student Affairs, Pepperdine University
Partner, Horvitz & Levy LLP
The Honorable Tiffany Williams
Associate Director for Advocacy Empowerment and Faith, Caruso School of Law
For additional information about this event, and to register to attend, visit the Caruso School of Law website.