Pepperdine Caruso School of Law to Host Workshop on Managing Difficult Conversations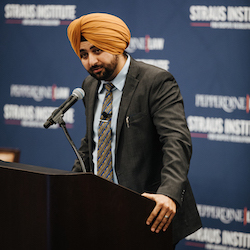 Sukhsimranjit Singh, Judge Danny Weinstein Managing Director, director of the LLM program, and associate professor of law and practice at the Straus Institute for Dispute Resolution at Pepperdine Caruso School of Law, will present the one-day workshop, Managing Difficult Conversations: Leading Conversations in Difficult Times, on the Zoom platform on Tuesday, September 29, at 1 PM PDT.
Singh will explore lessons that he has learned while conducting difficult conversations from the public sector to state-based discussions to cross-cultural conflicts. Singh will also share a list of best practices that will help facilitate conversations around personal identity and values.
For additional information about this workshop, visit the Caruso School of Law website.