Pepperdine Caruso School of Law Ranked Number 45 in U.S. News & World Report 2023–2024 Best Law School Rankings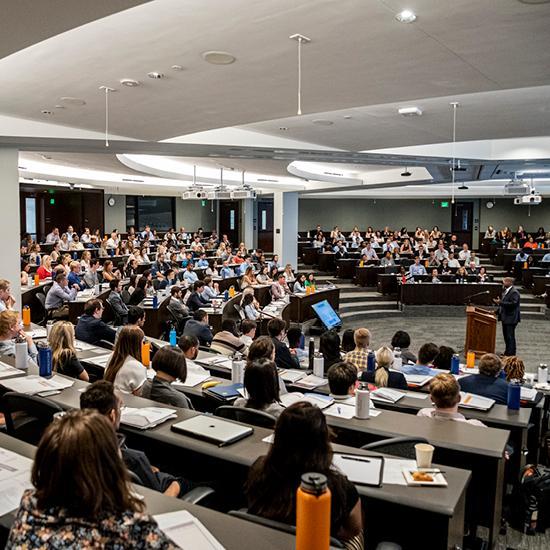 The Pepperdine University Caruso School of Law has been ranked number 45 in the country in the U.S. News & World Report 2023–2024 Best Law School rankings. This is Pepperdine Caruso Law's highest ranking in its history, topping the previous highest rankings in the school's history achieved in 2020–21 and 2021–22.
"While the boycott of the U.S. News rankings by some law schools and dramatic changes to the methodology were making headlines, our students, faculty, staff, and supporters remained steadfast in their dedication to our strategic priorities," says Paul Caron, Duane and Kelly Roberts Dean of Pepperdine Caruso Law. "When the dust settled, our continued progress in recruiting students with stronger academic credentials and commitment to our mission, and preparing them to pass the bar exam and secure full-credit legal employment at higher rates, have raised our national reputation for excellence and faith."
Pepperdine Caruso Law received the highest academic peer reputation score in its history for the second year in a row. The school was also recognized by its peers for its specialty programs with top 50 rankings in three areas: number two in dispute resolution, number 29 in tax law, and number 34 in clinical training. The Straus Institute for Dispute Resolution has been consistently recognized as the best alternative dispute resolution program in the country since the rankings began.
The USNWR 2023–2024 Best Law School rankings include 196 law schools fully accredited by the American Bar Association. Ranking criteria changed considerably this year, with the removal of some historical measures. The 11 remaining measures include acceptance rate; bar passage and job placement; quality assessments by academic peers, lawyers, and judges; and student/faculty ratios. Specialty program rankings are based on responses from faculty in each specialty who are asked to rate schools' programs on a scale of one to five. For more information about the rankings, visit the U.S. News and World Report website.