Pepperdine to Celebrate Ninth Annual Waves Weekend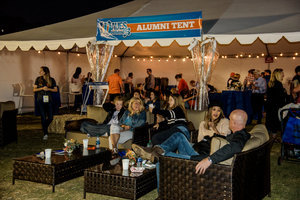 Pepperdine University Alumni Relations will host Waves Weekend 2018, welcoming back hundreds of Seaver College graduates to the beachside Malibu campus to reconnect with family, friends, and faculty, and to participate in a series of social, spiritual, and athletic events from Friday, October 12, through Sunday, October 14.
The three-day weekend's special events will include:
Friday
President's Open House
Madness Village
Blue & Orange Madness
Saturday
Surfing lessons, ocean kayaking, stand up paddleboarding, and Malibu nature hike
Weisman Museum exhibition: Pop! 50 Years of Art & Popular Culture from the Frederick R. Weisman Art Foundation
Women's volleyball vs. LMU and Women's soccer vs. BYU
First-Generation Student CONEction
Pepperdine Wind Ensemble concert and Pepperdine Improv Troupe comedy performance
Seaver Class Reunions: 1988, 1998, 2008, and 2013
Echosmith concert performance
Sunday
University Church Bible classes, fellowship, and worship services
Pepperdine Athletics Hall of Fame ceremony and dinner
For additional information about Waves Weekend 2018, and to register to attend, visit the Pepperdine University Alumni Affairs website.