Pepperdine Celebrates Diversity and Inclusion Excellence with 11th Annual Loqui Ceremony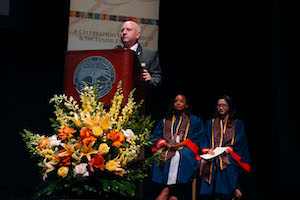 For the 11th consecutive year, Pepperdine University will host Loqui: A Celebration of Diversity and Inclusive Excellence to recognize Seaver College students and faculty who demonstrate the University's mission of purpose, service, and leadership by fostering a collective sense of diversity, inclusion, and belonging within the Pepperdine community. Seaver College seniors Sierra Bell and Juan Carlos Hugues will receive the 2021 Bowers, Davis, and Todd Award. Rebecca Y. Kim, Frank R. Seaver Chair in Social Science and professor of sociology at Pepperdine, will receive the faculty award. The virtual ceremony will take place on Thursday, May 20, at 6 PM PT.
"What I love about Loqui is that it highlights the voices of students on the margins. Everyone wants to belong and to feel a sense of kinship. During my time at Pepperdine, I have noticed that we have more and more students of color and a growing desire for students to want to be a part of clubs on campus," says Rebecca Campos (MPP '15), director of the Office of Intercultural Affairs. Campos, as the chair of the Loqui committee, hosts the auditions for students interested in performing songs, dancing on stage, and reciting poetry during the annual ceremony. "A lot of institutes of higher education in the United States are predominantly white spaces. Through Loqui, I hope our students get to see their culture represented on stage, hear their language, and feel a sense of pride about their own identity and about being a part of an inclusive community."
As the Student Government Association's director of diversity, equity, and inclusion, Bell has helped lead several initiatives of the Diversity, Equity, and Inclusion Council, including the establishment of the Armenian Student Association's Armenian Heritage Week, a multicultural hall at the Malibu campus, and a cultural exchange between Pepperdine and a historically Black college or university.
"I am most grateful to be receiving this award because it is a sign that I have properly listened to God's instructions while at Pepperdine," says Bell, who shares that belonging to a diverse family has inspired her journey toward the pursuit of diversity, equity, and inclusion. "My existence is the result of merging life paths, countless migration patterns across several continents, negotiations about how to coexist, and my ancestors' willingness to understand and extend love to others, even when it was inconvenient or socially or politically unacceptable. I make the deliberate choice to extend that love and regard for others as my way of honoring those who've raised me and the people who come before them."
Bell has also been involved in on-campus groups that have advocated to change the University's current course evaluation survey to include questions that focus on students' experiences with diversity and inclusion in the classroom, and has worked to ensure that Pepperdine's international programs in Africa are portrayed accurately and positively on the University website.
Outside of her student government responsibilities, Bell has contributed to building an inclusive community among women on campus as a peer-facilitator with the Body Project. Understanding the unique challenges of transfer students, she has also served as a transfer mentor since 2019, ensuring that incoming students feel included and supported when they arrive at Pepperdine.
"It is an honor to be the recipient of this award, because Dr. Calvin Bowers, Dr. Jennings Davis, and Dr. Grace Lucile Todd worked arduously to ensure everyone at Pepperdine felt seen, affirmed, and welcomed," says Hugues. "I resonate with these social justice heroes at Pepperdine, because they used their faith and love of humanity to work towards building a community that is equitable and just for all."
Hugues shares that his admiration for these figures derives from his passion for social justice. "Dr. Bowers advocated for more racial diversity and inclusion in the Religion and Philosophy Division at Seaver College, and Dr. Todd advocated for women in leadership positions at Pepperdine," he explains. "Dr. Todd was also an ally for the Black community at Pepperdine, especially during the Larry Donnell Kimmons incident in 1969."
As a sophomore in spring 2019, the psychology and religion double major served as chair of the Pepperdine Waves Debate program, where he helped organize the "Creating a World Without Bullying" event at Pepperdine in partnership with PACER's National Anti-Bullying Prevention Center chapter in Los Angeles. The event received local and national recognition by Los Angeles' KNX Radio and PACER's National Bullying Prevention Center.
During his junior year, Hugues served as president of Pepperdine's Crossroads Gender and Sexuality Alliance, creating initiatives to raise money for HIV/AIDS research in Los Angeles and hosting student-led dialogues on the intersectionality of queerness, race, and ethnicity.
Kim, who recently conducted research as a co-investigator of the Religious Leadership and Diversity Project—a nationwide study on faith, race, and leadership of multiethnic congregations—is currently researching the diversification of the Christian landscape as part of the Landscape Study of Chaplaincy and Campus Ministry in the United States.
"I am encouraged to pursue diversity, equity, and inclusion on a personal level because I view this work as a natural extension of being a teacher and a scholar in a diverse world, especially as a person of faith who wants to see the church be known for its love and community for all peoples, beautifully, and fearfully made in the image of God," shares Kim.
She is involved in the Sustainable Faith Project, investigating how the scientific study of the changing dynamics of religious belief and participation in North America can help inform the practical ministry efforts of Christian organizations. Kim will also participate in the Project on Lived Theology: "Race, Memory, Justice, and Reconciliation in Church-Related Colleges and Universities (2021–2023)," an initiative funded by the Lilly Endowment that will explore how professors at church-related colleges and universities can develop curricula and pedagogical approaches to teach undergraduate students in the era of hyper-partisanship and heightened rhetoric around race, immigration, and faith.
To learn more about this year's virtual Loqui celebration, and to register to attend, visit the event's registration page.