Pepperdine Celebrates Veterans Day with Weeklong Series of Events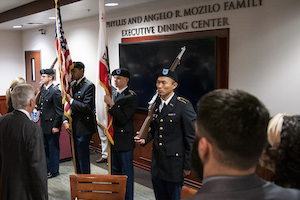 In commemoration of Veterans Day celebrated annually on November 11, Pepperdine University will host a series of special events both virtually and at the Malibu campus specifically organized for military-connected students throughout the week of November 8, 2021. The events will feature academic and career webinars, recreational activities, and a luncheon cohosted by Pepperdine president Jim Gash (JD '93).
"We are excited about the variety of activities and events scheduled for Veterans Week this year," said Eric Leshinsky, director of student veteran affairs at Pepperdine. "From career and networking sessions to good fun and fellowship, these events help build a stronger sense of belonging within the University community and are a wonderful way to support and honor those that served along with their families."
Noting that he frequently receives positive feedback from student-veterans about the level of support available to them at the University, Leshinsky expressed that, "It feels great to be part of a supporting cast at Pepperdine committed to helping veterans throughout their transition from military service to civilian life."
This year's events will include:
November 8 | Noon–1 PM
Career Services for Veterans and Alumni Panel Webinar
Hosted by the Graduate School of Education and Psychology Career Services Team
November 9 | 8:30 AM–12:30 PM
"Letters to Veterans"
All community members are invited to meet at Joslyn Plaza to write notes of appreciation to those who served
Hosted by the PeppVet Council
November 10 | Noon–1 PM
"Barracks to the Boardroom" Alumni Panel Webinar
Hosted by Graziadio Business School Career Services Team
November 11 | 12:30–2 PM
Veterans Day Lunch at Brock House
Hosted by President Gash and the PeppVet Council
November 12 | 12:30–1:30 PM
Distinguished Lecture: Vice Admiral Robert L. Thomas Jr. USN Ret.
Hosted by Payson Library
November 13 | 10–11:30AM
"Take the Hill"
Join student-veterans for a two-mile walk/run around the Malibu campus
Hosted by the PeppVet Council
November 14 | 10:30 AM
Military-Connected Yoga Session at Westlake Yoga Company
Hosted by Associate Registrar Sara Turki and the PeppVet Council
A participant of the Yellow Ribbon Program, Pepperdine University was ranked number 23 Best Colleges for Veterans by the U.S. News & World Report for 2022. For additional information about the University's programs for veterans, visit the Veterans at Pepperdine website.