Pepperdine to Commemorate Veterans Day with Virtual Event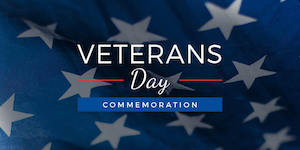 In honor of the men and women who have served in the United States Armed Forces, Pepperdine Veteran Affairs will host a virtual commemoration event on Veterans Day, Wednesday, November 11, at 8 AM PST. The presentation will feature inspiring stories from Pepperdine's student, faculty, staff, and alumni veterans and special remarks from president Jim Gash (JD '93).
For more than 70 years, Pepperdine has supported veterans and their family members with services and resources that build community, engage alumni, and provide employment, community service, and mentorship opportunities for all military-connected students. Recognized by U.S. News & World Report for its service to veterans, the University is an active participant in the Yellow Ribbon G.I. Education Enhancement Program, commonly known as the Yellow Ribbon Program, and offers tuition support to Yellow Ribbon-eligible students, most of whom are provided priority registration.
For additional information about the event, visit the Veterans Day 2020 Commemoration page on the Pepperdine University website.