Pepperdine Community Event Celebrates $50 Million Commitment by Alumnus Rick J. Caruso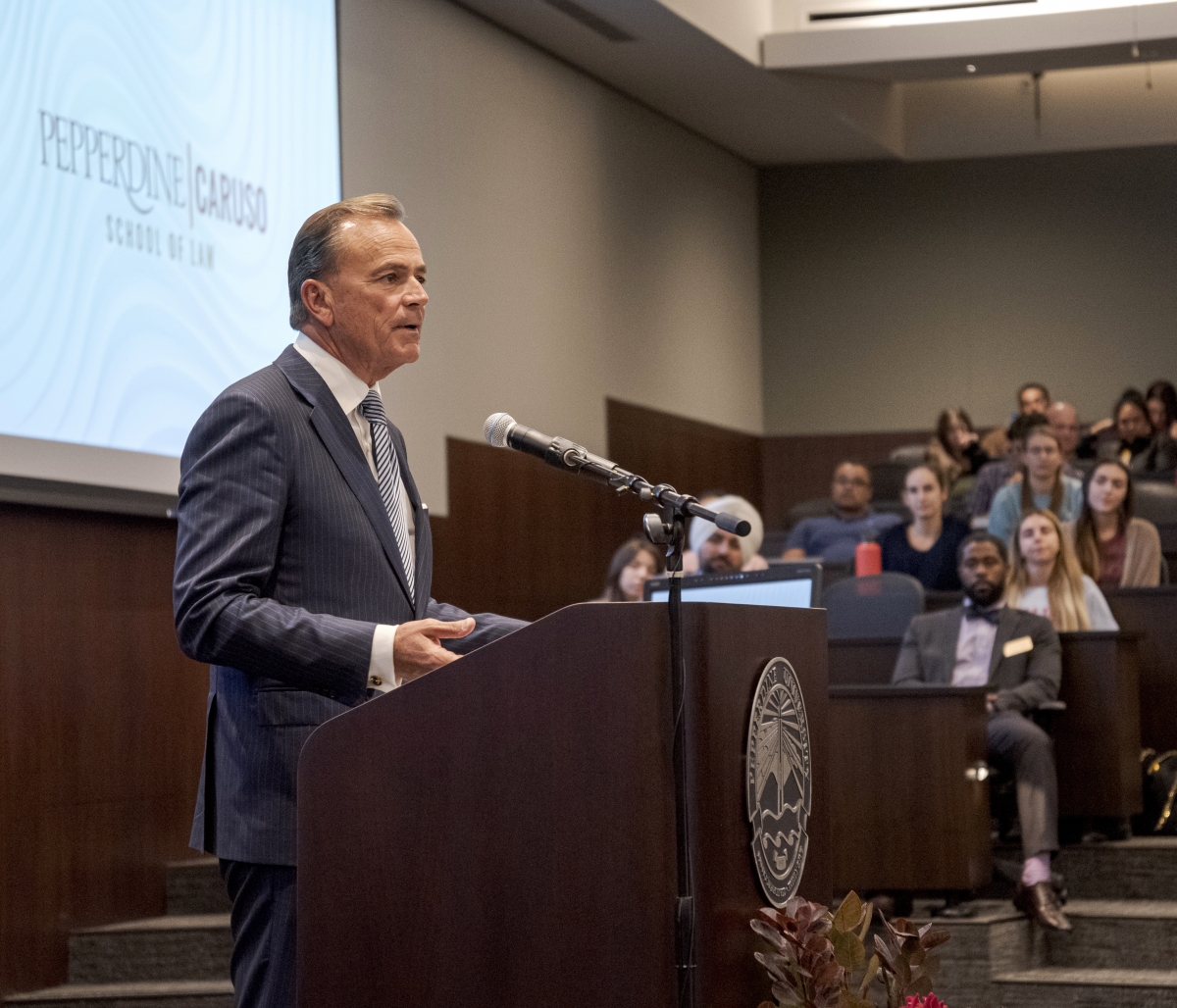 The Pepperdine community gathered at the Henry J. and Gloria Caruso Auditorium at the School of Law on Wednesday, October 23, to celebrate the announcement of the historic $50 million commitment made by business innovator, civic leader, and philanthropist Rick J. Caruso (JD '83) and his wife, Tina, to the Pepperdine School of Law earlier in the day. The celebration also commemorated the school's renaming as the Rick J. Caruso School of Law in recognition of the gift, which will expand educational access to exceptional, historically underserved student populations and fuel several initiatives to strengthen the School of Law's academic programming.
The ceremony commenced with welcome remarks from Paul L. Caron, the Duane and Kelly Roberts Dean of the Caruso School of Law, who highlighted the school's growth in the 50 years since its founding. Caron thanked the Carusos for their generosity, noting the gift's integral role in supporting students who otherwise would not be able to afford a Pepperdine legal education by reducing their financial burden through scholarships and loan forgiveness programs. The Carusos' gift will also provide the resources to increase alumni bar passage rates and further enable new graduates to pursue rewarding legal careers. In addition, funds will be allocated to hiring more faculty and providing greater support for current faculty.
"Rick Caruso's work and life epitomize excellence, faith, and community," said Caron, adding that Caruso will partner with Pepperdine over the next decade to raise an additional $50 million for the Caruso School of Law. "I can think of no single person who better embodies the character of our law school."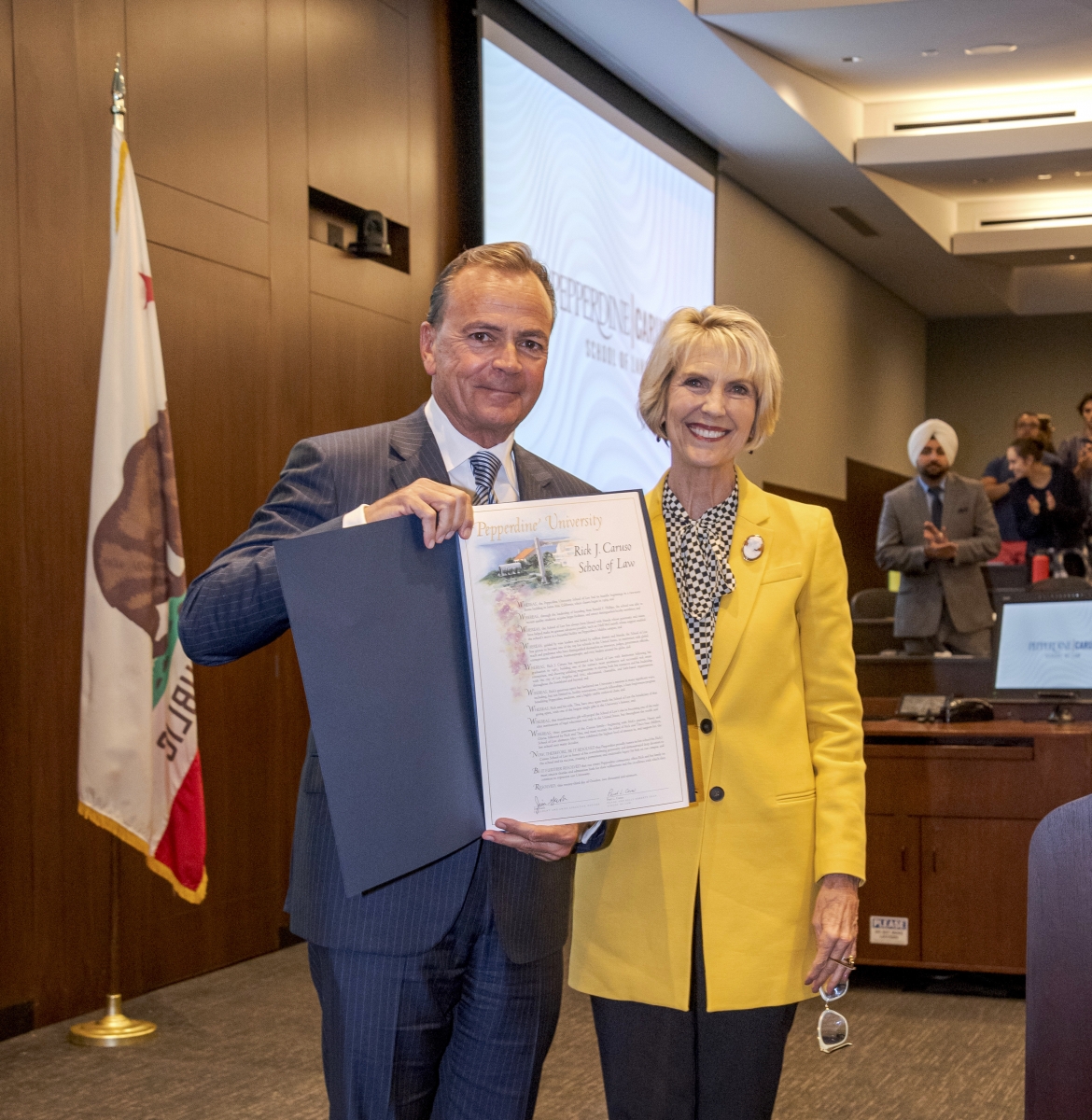 Pepperdine president Jim Gash (JD '93) recognized the Caruso family's legacy as faithful philanthropists who have been instrumental in providing assistance to many communities, both at Pepperdine and at other institutions of higher education, community organizations, and facilities in underserved neighborhoods throughout Southern California.
"Not just anyone could represent Pepperdine's reputation and make it better just by being who they are," said President Gash. "But the Carusos' core commitment to faith, to character, to Pepperdine, to building communities, and to making the world better sets them apart."
Following messages of gratitude from Andrew K. Benton, Pepperdine President Emeritus, and Ronald F. Phillips, senior vice chancellor and School of Law Dean Emeritus, Pepperdine chancellor Sara Young Jackson ('74) shared remarks about the School of Law's humble beginnings in a Santa Ana shopping center and its current home at the Malibu campus. With Caruso at her side, Jackson formally recognized the milestone moment in the history of the School of Law and officially declared its name the Pepperdine University Rick J. Caruso School of Law.
Addressing the audience, Caruso recalled some of his most memorable personal and professional moments, which shared a common theme of faith, family, and community. As he emphasized his educational background and the significance of serving local communities, Caruso honored his father, Henry, who encouraged him to attend Pepperdine Law, discussed the motivation behind one of his first philanthropic projects at a preschool in Downtown Los Angeles' Skid Row, and related the story of a young woman—now an undergraduate student at Boston College—he met years ago through a Los Angeles Police Department mentorship program who aspired to become a psychologist to explore the long-term impact of living in violent neighborhoods like the one in which she spent her formative years.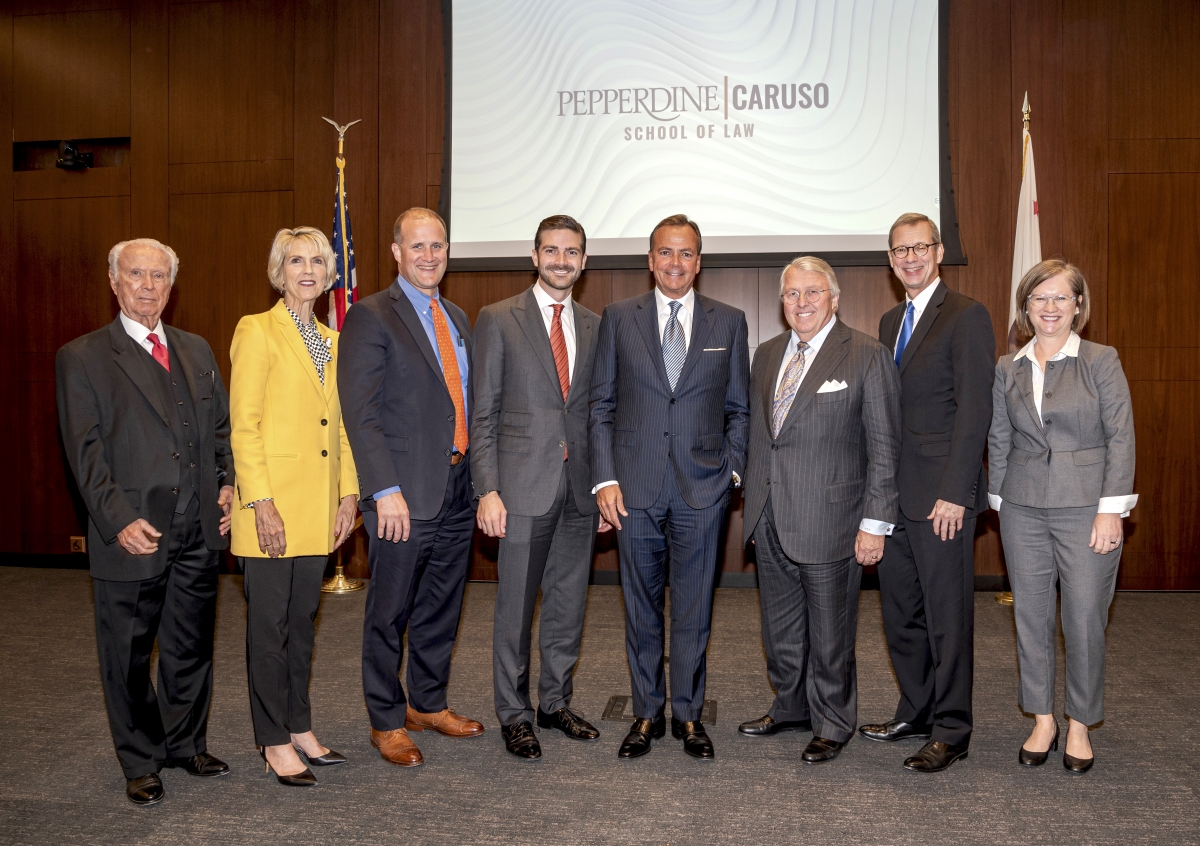 "How do we support the dream to get into law school, to get into medical school, to get a graduate degree, and then come back and serve your community? That's what this gift is about," Caruso shared, explaining that access and service are the top two priorities in providing students with the tools they need to help their educational and professional dreams become a reality.
Thanking the University's leadership team for its commitment to student success, Caruso reminded the audience that at Pepperdine, "It doesn't matter about your faith, background, or where you came from. You're in an environment where they want you to succeed spiritually, physically, and mentally. That's a gift. That's a gift to me, that's a gift my son (JD '17) had, and that's a gift my family has had."
Sharing his vision for the future of the Caruso School of Law, he added, "There is no doubt Pepperdine is going to the next level. It will be one of the top law schools in the country, if not in the world. It's on its way there. There is no stopping it."
The ceremony closed with a benediction by University chaplain Sara Barton.
To learn more about the Caruso family's generous gift, visit the Pepperdine University Newsroom.