Pepperdine Concert to Feature Concerto Competition Winner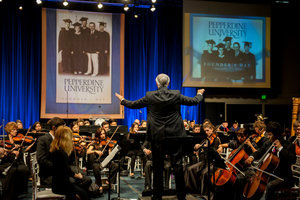 The Pepperdine Orchestra will perform its Masterworks Concert at 7:30 p.m. on Thursday, April 23 in Smothers Theatre, Malibu campus.
The performance will feature viola soloist Hannah Samson, a Pepperdine student. Samson is the 2015 winner of the Thomas M. Osborn Concerto Competition, a rigorous competition held each January.
The Pepperdine University Orchestra is an integral part of the Pepperdine University Department of Music. Under Tony Cason's direction, the orchestra performs a range of classical and contemporary repertoire providing students with the opportunity to perform great orchestral music in a positive environment, while striving for the highest standards of excellence in performance.
Prior to joining Pepperdine in 2005, Cason served as the deputy commander of The United States Army Band, "Pershing's Own", in Washington, D.C. There he served as the musical director of The United States Army Orchestra, The United States Army Strings, and the world renowned United States Army Herald Trumpets.
Cason has appeared with the Boston Pops Orchestra, the Los Angeles Philharmonic, the National Symphony Orchestra, the Indianapolis Symphony, the Cincinnati Pops, the Memphis Symphony Orchestra and the Mormon Tabernacle Choir. He led The United States Army Band in Edinburgh, Scotland, Strangnas, Sweden, Oslo, Norway, Brisbane, Australia, Seoul, South Korea and has conducted bands in Canada, England, Australia, South Korea and Spain. Cason has been on numerous recordings and television broadcasts including the 1996 and 2002 Olympic Opening Ceremonies, the "Kennedy Center Honors", "Christmas in Washington", "A Capitol Fourth" the Inaugurations and Inauguration Galas for Presidents George W. Bush and William Jefferson Clinton, and other special events from the National Mall.
Cason has performed at the White House and with some of America's best-known artists, including Jesseye Norman, John Williams, James McCracken, Louie Bellson, Doc Severinson, Arturo Sandoval, Elvis Presley, and Duke Ellington.
For more information call the Smothers Theatre Box Office at (310) 506-4522, or visit the Center for the Arts website.