Pepperdine Fine Arts Division to Present Die Fledermaus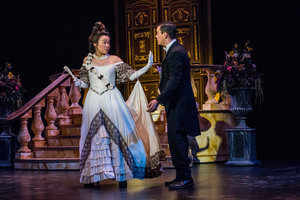 Members of The Flora L. Thornton Opera Program will perform Johann Strauss's beloved operetta Die Fledermaus at Pepperdine University's Smothers Theatre on Thursday, February 21, and Saturday, February 23, at 7:30 PM. The production will be sung in German with supertitles and English dialogue.
Mistaken identities, love affairs, and lighthearted revenge are all tied together with the intoxicating rhythm of the Viennese waltz. Both nostalgic and progressive, Die Fledermaus captures the charm of cosmopolitan Vienna and imagines what would happen if for just one night, people were free of the bonds of their social status.
Keith Colclough, assistant professor of music and director of opera, will direct the all-student cast, which will feature Danielle Adair, Bethany Adamski, Noah Archibald, Rebecca Calix, Jack Gerding, Brandon Gille, Joe Hebel, Andrea Hupman, Liam Nixon, Adrian Patiño, Alexis Raymond, Angelo Silva, Nathan Thompson, Emma Ujifusa, and Kaytlin Withers.
As Colclough explains, "Die Fledermaus is the kind of show that makes you want to get up and dance. Johann Strauss II, the 'Waltz King,' earns his title with a parade of intoxicating waltzes and polkas. The plot sustains a joyously cynical wit which makes the action bubble forth. If we play our parts well, the audience should have a hearty laugh and leave whistling their favorite tune of the night."
The Flora L. Thornton Opera Program at Pepperdine University has developed a reputation as one of the nation's leading undergraduate vocal programs. It features an annual fully-staged opera, a biennial summer intensive in Heidelberg, Germany, and master classes with top industry professionals. A $1 million endowment from Flora Laney Thornton, one of Southern California's most beloved and honored arts philanthropists, ensures high-quality productions and often contributes scholarship aid for the summer opera program abroad.
Pepperdine graduates have won scholarships to many of the nation's most prestigious graduate programs, including The Juilliard School, Yale Graduate Opera Program, Cincinnati College Conservatory of Music, Northwestern University, Rice University, and USC. Pepperdine graduates are now gracing the rosters of America's leading opera companies, including The Metropolitan Opera, Chicago Lyric Opera, Los Angeles Opera, Santa Fe Opera, San Francisco Opera, and Seattle Opera.
Ticket prices range between $10 and $20, and are required for attendance. For additional information about Die Fledermaus, visit the Center for the Arts website.